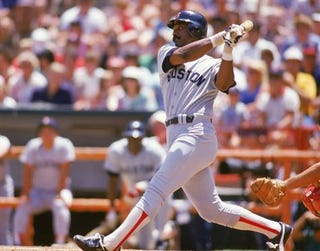 The long, strange Cooperstown journey of James Edward Rice came to a conclusion today, as the former Red Sox slugger/malcontent finally made the HOF in his final year of eligibility.
Wave your flags and blow the trumpets. And for good measure find a baseball beat writer and threaten to stuff him in a locker, as Rice has infamously done on more than one occasion. Perhaps that's why it took him 14 years to make it, and just under the wire at that. Our hero got 412 votes in the BBWAA election for 76.4 percent of the vote, with 75 percent needed to get in. He had 72 percent last year.
Oh, and Rickey made it too, which we'll get to momentarily.
Rice only got 29 percent of the vote the first year he was eligible for the Hall, in 1995, and his yearly fail in making the club became one of baseball's favorite ongoing narratives. When the news came down today, I called an old friend and member of the BBWAA who covers the Giants and Athletics for the Associated Press, Rick Eymer, and told him the news. His reaction summed up the moment pretty well.
"Holy shit. He made it?"
Had Rice not gotten the 75 percent necessary from the writers this time around, his case would have been sent to the Veterans Committee next year. His credentials would seem to make him a shoo-in, IMHO anyway, but then I never dealt with Rice in the clubhouse. By all accounts he gave new meaning to the word curmudgeon; once notoriously even tearing the shirt off of writer Steve Fainaru of the Hartford Courant.
But then there are the numbers: .298 lifetime batting average, 382 homers (non-steroid division), 1,451 RBI and a .502 slugging percentage. From 1975-1986, Rice drove in 1,276 runs, more than any other player (Mike Schmidt was second at 1,221).
"It's ridiculous that he hasn't made it before now," Eymer said. "I guess it's because he was a pretty irascible guy. He's definitely his own person."
So Jim Rice, your latest slugging Red Sox left fielder to make it to Cooperstown. The fact that he had to kick down the door 10 minutes before the joint closed for the night shouldn't diminish the accomplishment in any way.
Henderson, Rice Elected To Hall of Fame [BaseballHall.org]
Getting Into Rice Numbers [Boston Globe]
Rickey Races Into Hall, Rice Finally Slugs Way In [NBCSports]