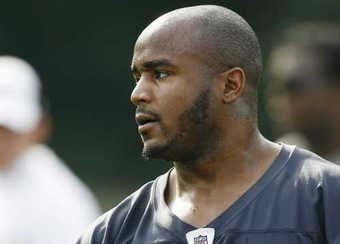 Cleveland police had to break up a "near riot" in front of the House of Blues last night, that ended with Buffalo Bills defensive back Donte Whitner on the wrong end of a taser.
Whitner and Ginn (who currently plays for the Dolphins) were teammates at both Glenville High School in Cleveland and at Ohio State, and both were in town for Ginn's birthday bash. At some point, several fights broke in the street in front of the club and that's when things got a little nutty.
Officers denied Whitner access to the area when he attempted to force his way past the officers in an aggressive manner, police said.

"Whitner began swinging his arms in a violent manner and, when restrained by officers, he broke free and took a fighting stance. An officer then deployed his Taser on Whitner, debilitating him enough that officers were able to place him in handcuffs," police stated.
Ahh, yes. Swinging your arms violently at cops always ends well. Whitner is currently enjoying his stay at the Cleveland City Jail on aggravated disorderly conduct and resisting arrest charges. Yet another reason to never go to the House of Blues, ever.
Donte Whitner jailed after 'near riot' in Cleveland [Buffalo News]
Former Ohio State football star Donte Whitner arrested in Cleveland [Cleveland Plain Dealer]