Since Sochi, the women's ski racing field has undergone a serious shake-up. Sure, the men have had some big-name retirements since 2014 (Bode Miller, Ivica Kostelić, Mario Matt, Benjamin Raich). But the women were practically swept of their previous all-stars: As they hit 30 (or came close), an entire generation of incredible athletes hung up their (race) skis.

Julia Mancuso, the U.S. skier you could find surfing in Hawaii almost as often as the slopes, was the most recent to say goodbye, taking a farewell bow at the Cortina downhill last month. Although she hadn't climbed a World Cup podium since December 2014, the 33-year-old is a loss this year, and not just because her laid-back attitude always lent some levity to the sport: the U.S.'s most-decorated female Olympic skier in history, she almost always managed to pull off the big events, winning gold in GS in 2006, silver in downhill and combined in 2010, bronze in the combined in 2014, and two silver and three bronze medals in the World Champs.
But it's not just Mancuso. The incredibly talented all-arounder Tina Maze of Slovenia, who won gold in Sochi in both downhill and super-G, retired last year in typically whimsical fashion. German Maria Höfl-Riesch, another all-discipline threat who won silver in super-G and gold in combined (and in 2010, two golds—one in slalom, one in combined), called her career after a crash at the end of the 2014 season. Dominique Gisin of Switzerland, who shared downhill gold with Maze (they had the same time), left the sport. So did Austrian Nicole Hosp, the three-time Olympic medalist who took bronze in the super-G plus silver in the combined, and her teammate Kathrin Zettel, who took bronze in slalom. And Austrian Marlies Schild, a slalom legend so phenomenal that she was Mikaela Shiffrin's childhood idol, who took her second Olympic silver in slalom (she'd also previously won Olympic bronze in slalom and silver in combined), retired, too.
Of the 15 medals given out at Sochi, only four of the winners remain. (On the men's side, 11 Sochi medal winners remain active).
G/O Media may get a commission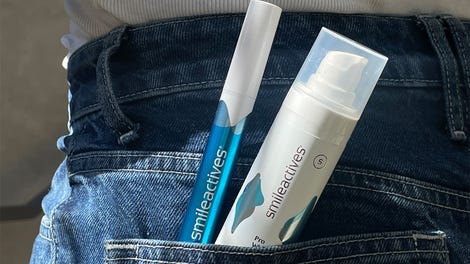 58% off
Whitening Powerhouse Pen & Gel Duo
So who's left, you might ask? A new raft of young, fast talent, hungry for medal. (And a couple of the most phenomenal of them American.)
The good news for U.S. fans is that, between Mikaela Shiffrin and Lindsey Vonn, the U.S. team has a couple of Olympic medallists already on hand. And both are well positioned to pull it off again this season. That means the U.S. team is looking good, even despite the sad news from this week that 25-year-old Jackie Wiles, who had just had her first podium of the season at Cortina, had the kind of head-over-heels crash in last weekend's downhill at Garmisch that made every viewer wince (and Lindsey Vonn, in the victor's seat, freak out). She tore her ACL, fractured her fibula and tibia, and (obviously) won't be skiing at Pyeongchang.
The women's GS starts on Feb. 12. That's followed by a Valentine's Day slalom, a Feb. 17 super-G, Feb. 21 downhill and combined on the 23rd. With a practically new post-Sochi Olympic field, here's who to watch.
Mikaela Shiffrin (slalom, GS, maybe downhill and combined): At this point, Shiffrin needs no introduction. The 22-year-old is still leading the pack in the overall on the tour, across all the disciplines, with almost twice as many points as runner-up Wendy Holdener. That speaks to what an insane season she's had.

But if she's going to get one or two victories at Pyeongchang—a pretty likely possibility—what she does need is to turn her luck around. After seeming almost indestructible, over the final run-up to the Olympics she's had an uncharacteristic series of mishaps: missing a gate at the Cortina super-G, falling in the GS at Kronplatz, an anomalous seventh place in the GS at Lenzerheide ,and skiing out of the course in the slalom the next day. Maybe it's just the fates evening things out. Maybe the pressure is getting to her. Regardless, Shiffrin must be praying to Lady Luck right now (and hoping to fight off those "pellets" of nerves) ahead of the highest pressure event of the calendar.

Even with her recent streak, though, in slalom she remains the one to beat. She won slalom gold in Sochi at just 18, the youngest athlete to ever do so, and in three World Championships in a row—2013, '15 and '17. She took the overall title and slalom title last season and, even with her recent slip-ups, remains on track to do so again this season. In other words, she's practically a shoo-in for not only a podium in Pyeongchang, but gold. Even if she settles for silver, it will be only the third slalom this season out of eight that she hasn't won.
Her GS, meanwhile, is almost as solid of a medal bet. Up until her super-rare crash at Kronplatz and her seventh place at Lenzerheide, she'd had four GS podiums in a row. At the St. Moritz World Championships last year, she came in second.
But amazingly, tech specialist Shiffrin—who already had expanded her repertoire to super-G—not only tested out her downhill skills for the first time on the World Cup tour this season. She made it look almost easy, winning one race and coming in third in two others. (She also skipped some downhills, including the most recent at Garmisch). Will she even be racing downhill at the Olympics? It's unclear. She's said before that she wants to medal in every single Olympic event, and her earlier results alone should have given her the confidence to give it a shot. After her last couple of weeks, though, I'd predict that she'll only do it if she's already nailed the GS and slalom, which come first on the calendar. Regardless, if she also races the combined—which marries a slalom and a downhill—her cross-training means she'll be especially well positioned to do well.
TLDR: Unless she turns out to have been completely shattered by the last couple of weeks, which I doubt, expect her to medal in at least slalom and GS, possibly combined and downhill.
Petra Vlhova (slalom, maybe GS): Even Shiffrin's mother has remarked that the aggressive, dynamic Slovakian skis more like Mikaela than Mikaela. In fact, the rare times that Shiffrin has faltered this season, it's been 22-year-old Vlhova who's picked up the mantle. When Shiffrin came in second in the slalom at Levi this year—one of two slaloms all season she didn't win—it was Vlhova who grabbed first. And when Shiffrin skied out at Lenzerheide, Vlhova won again.

Funnily enough, Vlhova doesn't always podium otherwise. Outside of those two wins, a second place at Killington (to Shiffrin) and a second in the parallel slalom event (where the racers go head-to-head) at Courchevel (also to Shiffrin), her slalom results this season have varied from fourth to eight to a DNF. But expect any subpar performance on Shiffrin's end to put wind beneath Vlhova's wings.
You'll also see Vlhova in the GS, but with a best result of seventh in the GS this season, she's a less likely medal contender.
Frida Hansdotter (slalom, maybe GS): Like Vlhova, the Swedish skier is one of Shiffrin's biggest slalom competitors. Unlike Vlhova, this season she hasn't managed to beat Shiffrin in any race the American has actually finished. And in the last slalom where Shiffrin skied out, Hansdotter came runner-up to Vlhova's victory—the most recent in her now five-podium streak in slalom races on the tour.
She's also no stranger to big events, sharing the podium in each of the last three World Championships with Shiffrin. The one podium she hasn't gotten? An Olympic one. She'll want to change that this year. But with a decade of experience on her rivals (and an extra Olympics under her belt), the 32-year-old is a serious contender.
You'll also see Hansdotter competing in the GS, but like Vlhova, she's less likely to medal there.
Wendy Holdener (slalom and combined, possibly GS): Switzerland's 24-year-old Holdener has come into her own in the last couple of seasons. She won gold in the combined and silver in slalom at the World Ski Championships in her home country last year. This year, she's earned a podium in every slalom she's finished (she DNF'ed in two) and won the one combined race held so far on the tour. In GS, her best result has been a just-missed-it fourth. Her last Olympics didn't go so well: She didn't finish the GS or slalom. Expect this to be the year she gives her all to making up for it.
Lindsey Vonn (downhill, super-G and combined): The (only) other female U.S. racer to need no real introduction, Vonn has been vocal about one goal in particular this season: Already the most decorated racer in U.S. history, she wants to win the most World Cup races of any athlete in the world, ever. (Barring further injury, she'll probably succeed).

It's equally likely, though, that she'll want to augment her collection of Olympic medals. Out of the last four Games, she had to sit out one (2014) and won two medals, a bronze in super-G and gold in downhill, both in 2010. Those are remarkable results, but she knows she can do better. And lately, she's been showing it: She's won each of the last three downhills on the tour, putting her career World Cup victory count at a jaw-dropping 81. She's also done well in the super-G, winning two this year.
But at a battle-scarred 33, where a career's worth of crashes have wrecked her knees multiple times, her results can be inconsistent and falling remains a big part of her repertoire. She crashed in the super-G at the World Championships last year (but still followed it up by coming third in the later downhill) and in two of the three speed events at Lake Louise earlier this year. As she's said before, her motto is usually "Go big or go home"—and that's not going to be any different at Pyeongchang. If she finishes, expect her to finish big.
Lara Gut (super-G, maybe downhill, GS and combined): Gut, the overall title holder in 2016, is currently leading the super-G standings. And that's quite a comeback. The Swiss earned not one, but two, World Ski Championships podiums back in 2009 at just 18 years old, and the rest of her career has been more of the same, including a bronze in downhill at Sochi in 2014. But she suffered a horrific crash on the downhill at her home World Championships in St Moritz last year, tearing her ACL and putting her out for the rest of the season. (She did grab a third-place finish in the super-G first).
This year, she's come back to attack not one, but three disciplines—and has been performing best in super-G, where she's podiumed in an impressive four out of the tour's seven races so far. She's still finding her feet in downhill, even more so in GS.
Anna Veith (super-G and downhill, maybe GS): Maybe it's just because she's more me-sized than the other girls on the tour, but I've always had a soft spot for Austrian Anna Veith, née Fenninger. And while it's a long shot, I'll be rooting for her in Pyeongchang. Another almost all-around phenom, she took two medals at Sochi—gold in the super-G, silver in GS—and has performed exceptionally at other big events too, winning no fewer than three golds, a silver, and a bronze in World Champs races. But after winning the overall title two seasons in a row, Veith crashed in a training run just before the opening race for the 2016 season at Sölden, tearing her ACL and meniscus. She only returned, slowly, last season, and she's had a hard time finding her feet. Still, she grabbed her first victory since her injury just after Christmas at the Val d'Isere super-G, and she's come tantalizingly close to the podium several times since. If she races GS, it'll be a much longer shot—but I'll be glued to the screen for her speed runs.

Sofia Goggia (downhill, and maybe super-G and GS): In the downhill, Italy's 25-year-old Goggia is one to watch. For one, she's currently in the lead for the event's crystal globe. And although she's never been to the Olympics before, at the Ski Championships in St Moritz last year she just missed the podium, coming in fourth.

But she's also one to watch because she's fun to watch. She takes serious risks on the hill but often pushes herself beyond the point of finesse—she sometimes reminds me of a Bode Miller in a much smaller, Italian package. Even in her strongest discipline, downhill, she's never predictable: she followed up a victory at the Cortina downhill a couple of weeks ago with a crash in the same downhill the next day—then grabbed second place at Garmisch, twice. (She's also pretty entertaining, bringing potty-mouthed Italian to the competition. After Vonn edged Goggia's winning run in the downhill yesterday, Goggia, a friendly rival of hers, shouted, "Bastardona!"—big bastard!).
She brings that same spirit to super-G and GS. In super-G, Goggia has failed to finish one out of every three or four super-Gs in the last few seasons… but when she finishes, she can finish big: she's had two super-G podiums this year. She also came in fastest at the super-G test for the Pyeongchang run a couple years ago. And she's not one to count out for GS, where she's also had a podium this year and came in third in the World Championships last year. Whether she'll medal or not is a crapshoot, but one thing is for sure: Watching her never fails to be exciting.
Tina Weirather (downhill and super-G): The daughter of two World Cup ski racers, Liechtenstein's Weirather is one of the speediest women on the circuit. She's currently behind Gut by a hair in the overall super-G standings, while she's third to Goggia and Vonn in the downhill. She's been on the podium in three downhills and three super-Gs this season, plus came in second at the super-G in the St Moritz World Championships last year.
After competing in the 2006 Olympics, she had to sit out 2010 (she tore her ACL on a crash at Cortina in January) and 2014 (she injured her leg on a training run for the downhill at Sochi). Expect her to be making up for lost time (and lost health) in this Games.
Viktoria Rebensburg (GS, maybe downhill and super-G): The German competes in three different events—GS, super-G, and downhill—but GS is her strongest discipline. After launching the season with back-to-back GS wins at Sölden and Killington, she's still leading the GS standings. She knows how to bring it at big events, too. At just 20 years old, she took GS gold at Whistler in 2010, then followed it up with GS bronze at Sochi and second place at the World Championships GS in 2015. She'll definitely be on the hunt for a podium in the GS at Pyeongchang. And she's probably hoping to follow up her downhill second-place at Lake Louise this year with a solid performance in that event, too.
Tessa Worley (GS, maybe super-G): The same age as Rebensburg, to the day—both racers turned 28 on October 4—the French phenom Worley is her match in skill, too. Rebensburg may have come in first in the 2015 World Champs, but Worley did in 2017. And Rebensburg may be No. 1 in the overall GS standings this year, but Worley won it last year, becoming the first French woman to seize it since 1993. She's also nipping at Rebensburg's heels for it this year. Like Rebensburg, she's having a strong season that's included four GS podiums. And while she's less likely to medal in super-G, with a best result of fourth this season, the speed event could always be in the cards.
Federica Brignone (GS, super-G, and combined): Like her teammates, the 27-year-old Italian isn't always the most consistent skier. But she's more than capable of performing—as has been shown this season, when she followed up a crash at Courchevel with a hard-fought victory at the very next GS.
Brignone tends to underperform at big events—she DNF'ed in the GS at both Sochi and the Vail-Beaver Creek Champs in 2015—but as her second place in the 2011 ski championships and her just-off-the-podium fourth place in the GS at St. Moritz last year showed, that's not a hard and fast rule. She also has good speed experience: She's won a super-G this season and come in second in a downhill. But GS will be the real place to watch her.
---
Journalist and editor Amanda Ruggeri writes for publications including the BBC, The Globe and Mail, and The New York Times. After growing up skiing in Vermont and learning to race on a tiny hill in Connecticut, she now lives in London, where the snow is rare but the Alps are close. You can follow her on Twitter and Facebook.