Olympic women's curling begins Wednesday (extremely late Tuesday evening in North America) with Team USA playing Japan at 12:05 a.m. ET. Defending gold medal winner Canada's first game will be against 2014 bronze medalists Great Britain at 6:05 a.m. ET. The top four teams after the 10-team round-robin will advance to a playoff. NBC Sports will be streaming every game online live. It's going to be a magical two weeks. With that in mind, here's a preview of each team from Deadspin curling correspondent Matt Sussman and British Columbia-based curler and comedian John Cullen.

Canada
The team: Rachel Homan (skip), Emma Miskew, Joanne Courtney, Lisa Weagle, Cheryl Bernard
How they got here: Won nine straight games after an opening loss to win the Canadian Olympic trials.
What they've done so far: Three Canadian championships in 2014, 2015 and 2017—the latter of which featured one of the best shots ever, followed by a world title. They've been dominant on the World Curling Tour the last four years, even including an invitation into a men's Grand Slam event, where they finished 1-3 against men's teams ranked in the top 10.
G/O Media may get a commission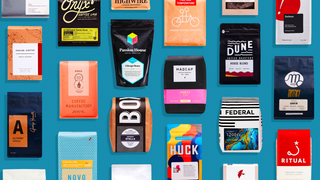 Get $25 free
Trade Coffee - National Coffee Day
Why you should care about them: They market themselves as athletes better than any other curling team does, or has, in the past. Miskew is a graphic designer and, aside from making custom uniform designs for other teams, happened to design Canada's uniforms for Pyeongchang. Bernard, the team's 51-year-old alternate and a TSN curling color commentator, won silver at the 2010 Games. And Weagle once incorrectly thought, at an early age, that her dad was Hall of Fame pitcher Dennis Eckersley.
Curling Athlete Rating: They're each a very distinct variant of Alex Morgan. (I'd use a Canadian soccer player you've heard of, but … well, you know.) Courtney, who's holding the trophy in the above photo, is extremely swole.
John's final thought: The absolute favourites. Sure, I'm Canadian and intensely biased, but two decades from now we'll all be talking about how this was the team that revolutionized women's curling. Olympic gold seems like destiny for a team that only requires that to be fully cemented as the best women's team of all time, and not getting it would inspire far too many lazy debaters to argue they're nothing without it.
Matt's final thought: Without building them up too much, anything short of a gold medal for this team, in this situation, against this field, would result in a level of apoplexy Canada hasn't seen since every single year they don't win a Stanley Cup, times 10. Once the USA team gets eliminated, get entirely the hell behind this foursome, because they're just so good and might be the crossover athletes the sport needs to get a little more mainstream.
China
The team: Bingyu Wang (skip), Yan Zhou, Jinli Liu, Jingyi Ma, Xindi Jiang
How they got here: Won one of the two spots available at the Olympic Qualifying Event in Pilsen, Czech Republic, smashing Italy 11-4 in the first qualification game after wrapping the round robin at 5-1.
What they've done so far: Wang won the Women's Worlds in 2009, becoming the first non-European or North American curler to skip a team to the title. She parlayed that success into a bronze medal at the 2010 Olympics, before she took a break to have a child. However, her team has rebounded lately and will have a chance to be in contention in Korea.

Why you should care about them: Wang is one of the most interesting curlers in the world. She started curling in 2001 in a country with two curling clubs for 1 billion people, and then moved to Canada to pursue lengthy training camps with expert coaching throughout much of the 2000s, a model copied extensively by other Asian nations. She's been to the Worlds 10 times, and a comeback story would be huge for her leading into the Winter Games in Beijing in 2022.

Curling Athlete Rating: Bingyu's English name is Betty, and it suits her to a T, as she looks best fit to be a superhero librarian whose only power is that she occasionally transforms into a world-ranked curler. The team is one of the few in the competition completely funded by their government, and they train like that too.

John's final thought: Bingyu Wang's name has been more valuable than her curling in the last five years, but she has been returning to form the last year or so with a bunch of Grand Slam qualifications and a convincing performance in the Qualification tournament. I think she still ends up on the outside looking in.

Matt's final thought: Wang led the finest Asian team to curl during the 2000s, a time when their region basically had no curling tradition. They started it. They are no longer the best team in the region, but they're still an inspiration to many in the Eastern hemisphere. Now some of the neighboring countries can thank them before beating them. It's a good thing they already got their medal.

Denmark
The team: Madeleine Dupont (skip), Denise Dupont, Julie Hogh, Mathilde Halse, Lina Almind Knudsen

What they've done so far: Two world championship medals—a silver in 2007 and a bronze in 2009—and an appearance at the 2010 Olympics for Dupont, but not a whole lot since.

How they got here: Won the second spot in the Olympic Qualifying Event, downing Italy 5-4 after Madeleine Dupont made one of the shots of the century on her first rock in the 11th end.

Why you should care about them: There's that aforementioned shot that even left the coach in stunned disbelief.

If you like your athletes outspoken, immediately after qualifying for the Olympics, Dupont called out the Danish Sport Federation for turning their backs on the team after poor results. She also made headlines in 2010 by posing topless for the first-ever curling calendar for charity, a tradition that continues today, with both men's and women's versions raising thousands of dollars annually.

Curling Athlete Rating: Watch Dupont scream after that made shot against Italy and you can tell she's had experience in the game. They're pretty serious.
John's final thought: Dupont seemed like a surefire star after some great performances in the latter half of the aughts but hasn't been heard from much since. Her rallying cry after winning was inspiring and might make the Danish government pay a bit more attention to curling, but they're a long shot.
Matt's final thought: I don't want to say they're in the Olympics due to two burned rocks and a crazy shot, but they're in the Olympics after two burned rocks and a crazy shot. Because of that, Denmark is the only country at the Olympics whose delegation is over 50 percent curlers. That is going to have to be enough accomplishment for them, because they're going to have a rough couple of weeks.
Great Britain
The team: Eve Muirhead (skip), Anna Sloan, Vicki Adams, Lauren Gray, Kelly Schafer
How they got here: By being Great Britain's top team for a long, long time.
What they've done so far: What hasn't Eve Muirhead done? This will be her third Olympics, and she's 27. She won four World Juniors in five years and only didn't win in 2010 because she skipped it to play in the Olympics as a 19-year-old. She won her first senior world title in 2013 and followed that up in 2014 with a bronze medal in Sochi, becoming the youngest skip, male or female, to win a medal.
Why you should care about them: Eve is one of those people that's so good at everything, you're not sure whether to be mad or impressed. She famously turned down two scholarship offers from U.S. universities to play golf, is a two handicap, and said she may turn pro after her curling career is done. She's also a bagpiper, because of course she is. She piped in the teams herself before her game at the 2014 Continental Cup.
Curling Athlete Rating: Muirhead broke her broom at the 2010 Olympics, and it required barely any effort by her, judging by the video. She's strong, as is the whole team. Maybe it's the farming thing. Did we mention Eve farms? Of course she does. The whole team trains year-round and is among the fittest teams in the sport.
John's final thought: Eve hasn't been as good recently as she has in past years, but she won a bronze at the Worlds last year and that's certainly not out of sight here. One of those teams that could challenge for and win a gold, or miss the playoffs.
Matt's final thought: Is it time for them yet? From the looks of the rest of the field, it seems like it. They're going to win silver, and that's a huge accomplishment, because winning silver in 2018 is like winning gold amongst the non-genetically-modified curling humans.
Japan
The team: Satsuki Fujisawa (skip), Chinami Yoshida, Yumi Suzuki, Yurika Yoshida, Mari Motohashi
How they got here: Won the Japanese trials 3-1 over rival skip Chiaki Matsumura, with their Olympic berth set up by their excellent performances in the Asia-Pacific zone the last few years.
What they've done so far: A silver medal at the 2016 Worlds that they couldn't defend the following season due to a lack of qualifier points. That said, Fujisawa is ranked 24th in the world in the points standings.
Why you should care about them: They're always smiling and laughing, extremely gracious to their opponents, and just a joy to be around. It's hard to imagine anyone could watch their games and not come away thinking positively of their team.
Curling Athlete Rating: Japan has been serious about curling as a country since the early 2000s, and Fujisawa is no exception. They're co-coached by Canadian J.D. Lind, and a lot of money is poured into their program. They may be small, but they're in shape.
John's final thought: Fujisawa lacks the resumé, big-game experience, and world ranking of some of the other competitors in the field, but she can win, and she has. They're a mid-pack team, but one or two big wins would position them well for later in the competition.
Matt's final thought: Their schedule is favorable. They don't play the four best teams (Canada, Sweden, Switzerland, Great Britain) until their final four games, so they might be a surprise team early. They're young and have fooled international competition before, but the hot start is probably going to be the zenith of their Olympic experience. Looking ridiculously far down the road, everyone here is under 26 so they could be much improved the next time around in Beijing.
"Russia"
The team: Victoria Moiseeva (skip), Uliana Vasilyeva, Galina Arsenkina, Julia Guzieva, Julia Portunova
How they got here: They beat Team Anna Sidorova, the country's 2014 Olympic team, in a best-of-seven, 4-1. Russia named Sidorova's team their Olympic representatives before the season, then had a change of heart after Sidorova's team struggled throughout, while Moiseeva's team just kept improving, so the country made them both play for it. My heart hurts for Sidorova's team but Moiseeva's women are just playing better right now.
What they've done so far: A gold medal at the 2016 European Curling Championships.
Why you should care about them: They're probably the most unknown team in this group, but Russia definitely cares. In the Everest All-Star Challenge, a fan vote was put up to see who the final team would be for the women, and Moiseeva's team somehow outdrew some of the most popular Canadian teams also running. Ultimately they backed out due to an illness, but there's some sizzle behind this team. Additionally, Moiseeva is engaged to Danish Olympic curler Oliver Dupont, which means when this team plays Denmark, Moiseeva will be skipping against her future sisters-in-law. Depending on the couple's future, this is either going to be her final time playing for "Russia," or she just recruited another sweeper for the men's team.
Curling Athlete Rating: While they're an unassuming group, consider their country's history with gymnastics, figure skating, and tennis. Russian athletes with tightly braided hair are just tenacious as hell.
John's final thought: Competing under this much controversy can't be that fun, but they did have to beat one of the better teams in the world and last year's world silver medalists—Anna Sidorova—just to be here. As Matt said, they played so well they forced Russia to have a playoff after they weren't going to. However, experience plays a role and it's tough to see them among the medalists.
Matt's final thought: Their 2016 Euro title was a pleasant surprise, but this is their first time playing the world. They're good enough to medal but they haven't been tested like this and it could all go bad quickly.
South Korea
The team: Eun-jung Kim (skip), Kyeong-ae Kim, Seon-yeong Kim, Yeong-mi Kim, Cho-hi Kim
How they got here: They're the host nation and won their national trials.
What they've done so far: Back-to-back winners of the Pacific-Asia Curling Championships and a 12th-place ranking on the World Curling Tour.
Why you should care about them: About 20 percent of South Koreans are surnamed Kim, which means the odds of five teammates having that same name without being related is insanely low. (By comparison, South Korea's national baseball team has four Kims on a 28-man roster.) To make things easier, the curlers gave each other English names to call each other on the ice, and they clearly did this when they were hungry. Eun-jung goes by "Annie" after her affinity for Annie's Yogurt. Kyeong-ae is "Steak," Seon-yeong is "Sunny" (for sunny-side up eggs), and Yeong-mi is "Pancake." (Cho-hi's nickname is the relatively mundane "ChoCho.") Really, they're Team Country Breakfast, at least until Billy Butler takes up the sport.
Curling Athlete Rating: Annie's large-framed glasses are obviously going to bring their metrics down from their barely 5-foot stature, but they could pull their entire look off as a really sassy archery team.
John's final thought: Home ice could play hugely into their favour, but it's tough to say if Korean crowds will be as tough on their rivals as, say, the Canadian fans were in 2010. They're not much more than a middling team and might finish near the bottom of the standings.
Matt's final thought: They've made great strides to be competitive on the world scene, and the home ice is a huge factor. They could medal but the more likely outcome would be a finish in the middle of the pack.
Sweden
The team: Anna Hasselborg (skip), Sara McManus, Agnes Knochenhauer, Sofia Mabergs, Jennie Waahlin
How they got here: Selected by the Swedish Curling Association.
What they've done so far: They're ranked third in the world, but they don't have any marquee wins to their name. We have to go all the way back to 2010, when Hasselborg was the junior (under-21) world champion, to find any medals here. Knockenhauer was the alternate on the 2014 Olympic team when they won silver.
Why you should care about them: Canada gets all the attention, but Sweden has low-key dominated the Olympic circuit for the last three cycles—one silver, two golds.
Curling Athlete Rating: Mabergs's snazzy arm tats are the envy of the curling world and could put her on any number of roller derby teams. McManus and Knockenhauer both have the surname and sufficient height to be team captains of something else. Hasselborg has the ferocity of a mathlete.
John's final thought: Every team needs a breakout party, so let's say this will be Hasselborg's. To me, the field is Homan and then a gap, then four or five teams all really close, of which Hasselborg is one. She should get out of that pack and into the gold medal game with Homan.
Matt's final thought: There's no question Hasselborg is as intelligent and mechanically sound as any other elite curler, but the knock on her has been the lack of the "killer instinct" we usually attribute to young players in other sports that haven't won anything. Her rink is going to get a big win at some point, and it might be enough to reach the podium, but I'll believe it when I see it. Possibly bronze.
Switzerland
The team: Silvana Tirinzoni (skip), Manuela Siegrist, Esther Neuenschwander, Marlene Albrecht, Jenny Perret
How they got here: Won the Swiss trials with a flawless 9-0 record.
What they've done so far: Their biggest win came in a Grand Slam event in 2015 in Newfoundland which for some reason involved a bunch of natural fog.
Why you should care about them: Switzerland is surprisingly deep in curling talent; their country won world titles in 2012 and 2014-16. Tirinzoni's team was not a part of any of those titles, so for them to run the table at Trials was a bit of a shock, even though they have been one of the strongest teams on the World Curling Tour in the last four years. It's not fair to call them late bloomers, since Tirinzoni was the junior world champion all the way back in 1999.
Curling Athlete Rating: Tirinzoni has an air about her like she won two Tennis Grand Slams 10 years ago. But although these Swiss women are Olympic athletes who could pass as pilates instructors, their names don't carry that gravitas. When's the last time an Esther played sports? [Editor note: Please respect 2016 Olympian Esther Barrugues Alvina of Andorra.]
John's final thought: Tirinzoni has a better Grand Slam record than anyone in the field outside of Homan, and it's in those games and moments where she's gained the experience that's going to carry her here. Sweden should emerge from the pack of four or five teams that could compete for gold, but Switzerland isn't far behind. The Swiss always seem to find their way to the podium, and they may do so again here.
Matt's final thought: They're perhaps the best team in this field without any major world accomplishments this century. They might be dangerously overlooked though the rest of the field is well aware of what they can do. If I had to pick a non-Canadian team to hit the top of the podium, it'd be this one just based on their national dominance.
United States
The team: Nina Roth (skip), Tabitha Peterson, Aileen Geving, Becca Hamilton, Cory Christensen
How they got here: Won the U.S. Olympic Trials in close fashion, edging out Canadian traitor Jamie Sinclair in the finals.
What they've done so far: ... Not a lot? The U.S. has a recent tradition of sending teams to world events without a ton of experience due to preferring teams from their High Performance Program, and almost no one makes that case better than Roth. This current team has only one U.S. Championship to its name in 2014 and didn't go to the Worlds that year, instead going last year when they finished second to the aforementioned Sinclair due to points. It's very confusing. That said, they missed the playoffs at Worlds last year by one win and are a solid, 14th-ranked team on the World Curling Tour.
Why you should care about them: (John): Much like the men's side, the U.S. is sending their best team. Say what you want about the HPP, but they got it right for these Olympics. Becca Hamilton will have also competed in the mixed doubles event beforehand. She oozes personality, and it's not a surprise they picked her to go on Jimmy Fallon along with her brother Matt. I also burped very loudly on the sheet beside them at a tournament this year after forgetting there were also ladies in the spiel, and we had a nice laugh about it.
Curling Athlete Rating: Nina carries herself with a poise and maturity that belies her age, which is 29. Must be all those years as a skip. Somehow the team just looks very American to me. I just assume if I ever go to Wisconsin I'll see at least 100 people that look like them.
John's final thought: I think their result at Worlds last year is going to accurately mimic what they've got going on here too. They could slide into the playoffs, but more likely they'll just miss. Given the team's young age and the continued development at USA Curling, 2022 might be more in striking distance.
Matt's final thought: This is an extremely good team, and I hate saying that because it's a very boring sentiment. At this point they haven't cleaned up internationally, other than a high-profile World Curling Tour event, and that single result gives me a bit of hope. That said, Tab Peterson's shotmaking is going to be key. Her double raise in the U.S. trials got this team here, and she's going to be the one to get them further. The program has made great strides since the last Olympics, so they've upgraded themselves to a very boring projected finish of 5-4.
---
Matt Sussman is a sort-of-competitive curler from Ohio. You can follow him on Twitter at @suss2hyphens.
John Cullen is an actual competitive curler and comedian from Vancouver, BC.