Les Miles is one of the most accomplished coaches in college football. He's won a national championship, a pair of SEC titles, and has kept LSU near the top of the SEC standings for a decade. Under Miles, LSU has secured a top-10 recruiting class almost every year. And yet, it appears that Miles is most likely on his way out of LSU.
Jokic? Embiid? The NBA MVP is obvious... right? | Keep it a Buck(et)
After starting the season with seven straight wins and a probable Heisman candidate in Leonard Fournette, LSU dropped three straight. Alabama and Arkansas both beat them comfortably, Fournette stopped cracking highlight reel runs, and the team looked stagnant. Ominously, they started to lose recruits.
The rumors about a potential firing started to come out after the Arkansas loss. On November 17, The Advocate reported that Miles was probably coaching for his job. LSU then got blown out by Ole Miss 38-17 down in Oxford, sealing LSU's first three-game, double-digit losing streak since 1966. After that loss, ESPN reported that there was a "very good possibility" that Miles would get bought out of his contract.
About that buyout: it's massive! In 2012, Miles signed an extension that would keep him at the school until 2019. Firing him now would cost the school a cool $15 million. That's a huge sum for a public university, but The Times-Picayune reported that it wouldn't be a problem:
The $15 million dollar buyout clause in Miles' contract will not be a hindrance for TAF, the athletic program's powerful booster club that funds a lot of the athletic programs for LSU, according to the source. "The money is there", the source said.
G/O Media may get a commission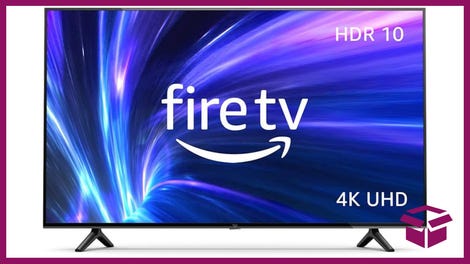 42% Off
Amazon Fire TV 50" 4K Smart TV
That report also included the nugget that Miles' job status was, "not tied to the outcome of the Tigers' game against Texas A&M." Miles also tried to get LSU to extend offensive coordinator Cam Cameron's contract, but was rebuffed. LSU was tellingly silent this whole time, not speaking on his job status either way.
Yesterday, Miles reportedly told a LSU booster club that the Texas A&M game would be his final game as coach. Miles later denied it, and so did LSU. Whether or not he explicitly said he would be out the door, it became abundantly clear that Miles was not in control of the situation.
This morning, Jimbo Fisher reportedly told the Florida State president that he did not plan on leaving. Rumors that LSU wanted Fisher to replace Miles started about the same time as the rumblings that Miles' job was maybe in trouble. Fisher could be sincere, or he could be pressuring LSU to raise their potential offer to him amid all their turmoil.
ESPN also reported today that Miles was, "likely to be let go soon." FootballScoop published a conflicting report that the backlash against LSU and athletic director Joe Alleva for his silence on Miles' status could benefit Miles. That report indicated that Miles could possibly stick around, providing he beats A&M this evening.
So, in summary, nobody knows much of anything! Depending on which group of reports you believe, he could keep his job if the Tigers lose or even lose his job if they win. Because of how poorly LSU handled trying to run Miles out of town, he might end up sticking around, which would be a phenomenally silly ending to what's been a strange saga. But regardless of what happens on the field today, it would be hard to see a future for both Alleva and Miles together at LSU next year, given this level of apparent mistrust.
Photo via AP
Contact the author at patrick@deadspin.com or @patrickredford.