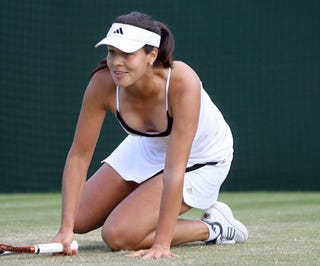 It's been a bit quiet in the sports world this weekend, so why not look ahead to what the coming week has to offer. Continue after the jump for quickie previews of Wimbledon, the NBA Draft, and guy who doesn't mind being called Pacman...
• Break out the bleach. The countdown to Wimbledon is on (we're under 13 hours!) and the eyes are the players sitting atop the bracket. Roger Federer has won the tournament an absurd six consecutive times, but he's had trouble holding off Raphael Nadal of late. The women's field is topped by Ana Ivanovich, who in addition to being amazing is quite capable on the grass.
• Break out the pinstripes. The NBA Draft/Fashion Show is going down on Thursday night in New York and everybody's waiting to see if Bill Walker will wet himself while waiting in the crowd for the second round to begin. Of course there will be other memorable happenings, like the shot of a puzzled Knicks fan wondering why they took that Italian kid instead of Mayo. Hopefully the Wizards will even have a big man with a pulse and the ability to rebound fall into their laps. That would be nice. Hell, I might even read the SG's diary. Is that in live blog form these days?
• Break out the Pacman. Manny Pacquiao, Ring Magazine's new pound-for-pound champion, faces a tough test from American David Diaz on Saturday night in Vegas for the latter's lightweight title. Pacman is an all action fighter who hasn't been stopped in nine years and Diaz is a former Olympian, and a three time Golden Gloves national champion. He decisioned, and retired, the legendary Erik Morales to win the WBC belt. Pacman has always been considered among the best in the world, and now he'll face a true lightweight, and a champion at that.