The Washington Post is out with a giant story about a 2011 meeting at which an official from the federal Drug Enforcement Agency was invited by the NFL to give a presentation to all 32 team doctors teams about those teams' slapdash handling of prescription drugs. The now-retired DEA official, Joseph Rannazzisi, was there to instruct NFL teams on the nexus between federal laws and best practices for treating players' pain and injuries. Except those doctors didn't care for what Rannazzisi had to say.

At the time, the DEA had three teams—the Chargers, Saints, and Falcons—on its radar for their handling of controlled substances. Rannazzisi's presentation would eventually be the basis for a full-blown DEA inquiry into the way NFL teams handled, stored, traveled with, and distributed addictive painkillers and anti-inflammatory meds to players—practices now at the root of a federal lawsuit filed on behalf of some 1,800 former players against all 32 teams. It wasn't until 2015 that the NFL developed guidelines that conformed with the DEA's recommendations for the handling of pain meds.
But on that 2011 day in Indianapolis when Rannazzisi gave his lecture—framing it against the devastation being wrought by the country's burgeoning opioid crisis, about which he had talked to the Post as part of an investigation published last year—he was greeted with what the Post described as "[g]roans, catcalls and even some boos." More from the Post:
The doctors felt they were being compared to pill pushers, and the meeting became confrontational. "He was treating everyone like a criminal," said one doctor in attendance.
G/O Media may get a commission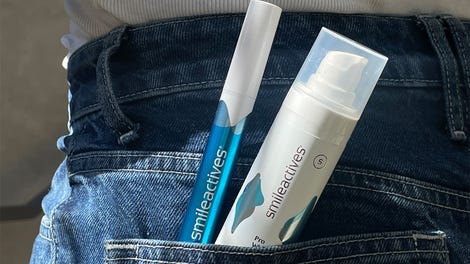 58% off
Whitening Powerhouse Pen & Gel Duo
Especially vexing for the doctors was finding out they couldn't travel across state lines to away games with prescription meds, something that had been an accepted practice throughout the league for a long time. That part of Rannazzisi's talk led to this absolutely incredible exchange:
At one point, Rannazzisi said, a doctor raised his hand and asked why the President is able to travel with drugs aboard Air Force One. The DEA official explained that Air Force One is a military plane and statutes allow exemptions for military aircraft to move drugs around the country.

"I'm thinking as I'm saying this, 'This is surreal,' " Rannazzisi recalled. "So he says, 'The military is exempt? Well, think of our players as warriors every Sunday on the field of battle.' I was stunned."
When a Dallas Cowboys team doctor tried to argue that federal law doesn't consider the challenge that traveling across state lines poses for NFL teams, Rannazzisi said he told the doctor, "The law is the law," only to be greeted with this reply: "Well, my owner knows members of Congress and he'll get the law changed."
Last month, one day after the Post and Deadspin detailed the painkiller lawsuit, Rep. Pete Sessions (R-Texas) introduced a bill that would more or less allow teams to travel with unlimited quantities of prescription meds for up to 72 hours. The bill was similar to two others Sessions had introduced dating back to 2011—the first came nine months after Rannazzisi's meeting in Indy with those NFL team doctors—though neither got past the committee process. As the Post later discovered, Cowboys owner Jerry Jones and 11 other members of his family all donated $2,700 last year to Sessions's re-election campaign. That's the maximum amount allowed for individuals under campaign finance laws.