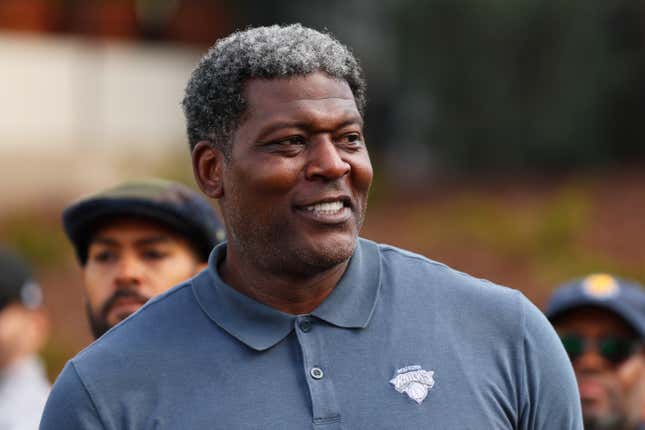 Former UNLV and Knicks star Larry Johnson's ex-girlfriend says he sent her threatening voicemails and harassing texts, Deadspin has learned. Johnson's ex, Kasey Krummel, shared with Deadspin text messages and voicemails that support her claim that the 54-year-old retired NBA star is spiraling out of control, unable to temper his emotions, abusing alcohol, and was physically and emotionally abusive.
How running an NFL team is like running a restaurant | Chef Emeril Lagasse
Krummel, 36, a former lawyer who turned to boxing after practicing civil litigation for several years in Texas before relocating to Las Vegas, alleged she and Johnson dated for four months before the intensity of his drunken outbursts progressively escalated.
Johnson allegedly made racist and threatening remarks
On Monday, May 29, while her car was being repaired, Krummel told Deadspin she was waiting for Johnson to pick her up at 2 p.m. from the Silver State Boxing Gym in Las Vegas, where she trained with four-time world champion Joel Casamayor. When Johnson entered the gym, the Cuban-American Casamayor shook Johnson's hand and told him, "No ingles." According to Krummel, Johnson proceeded to mock Casamayor for not speaking English, but Casamyor didn't understand.
Following that brief introduction, Krummel says Johnson appeared agitated on the otherwise uneventful ride to her home. However, at 2:55 p.m. Krummel says Johnson left a voicemail that left her mortified.
In the voicemail, provided to Deadspin by Krummel, a man who called from a number that appears to belong to Johnson menacingly threatened his then-girlfriend before launching into a racially-tinged tirade that mocked Casamayor and other Hispanics, "You're a piece of shit! I'm gonna shoot everybody around you in the head. You got a grandma, grandpa? I'll shoot em in the head," the man on the voicemail yells. Deadspin was able to ascertain that the address associated with the phone number is owned by Johnson, according to public records.
After a brief pause, the man alleged to be Johnson begins mocking Casamayor's accent by repeating "No inglés? No inglés?" and threatened to shoot everyone Krummel knew in the head for a second time, before launching into another racist diatribe.
"Go back to Mexico if you don't speak ingles. 'I don't speak ingles.' You don't speak English when they fuck up over here!" added Johnson angrily before hanging up.
Johnson's reported fixation on Casamayor's English was emblematic of what Krummel says is a troubling pattern of behavior for him, telling Deadspin that Johnson did not like her affiliating with Hispanics and had a history of making racist statements in her presence or about her own ethnicity.
"[He] constantly told me I'm 'wifey' material, but I'm white. Eventually I asked if he hates white people and he said 'No I understand them, which is worse.'" He also repeatedly told me I'm not Native (American). I am 50 percent Creek," Krummel explained to Deadspin.
The next day, Krummel says Johnson blamed his homicidal threats and racist statements on alcohol, which was a common theme for him during their relationship. Krummel also alleges to have seen at least two firearms in Johnson's home, including a revolver he sleeps with and a black semiautomatic weapon. After a conversation with a lawyer friend, Krummel decided to report Johnson's voicemail to the Las Vegas Metropolitan Police Department. Krummel filed an official police report on July 4, which she provided to Deadspin, but declined to press charges at the time.
"I'm not scared of Larry. I think that bothers him. But most people who talk, don't do. He hated that when he got mad (often) and was yelling in his house, I would usually laugh. Because he was always mad about nothing," Krummel said. "For example, Krummel says Johnson would routinely ask "WHY IS YOUR HAIR WET!?" when she showered two to three times a day when in camp before a bout.
During a subsequent conversation, Krummel alleges Johnson inaccurately accused her of violating Nevada's law by recording him without his consent, telling her she would do time for conspiracy, blackmail, and defamation as a result of the recording. However, Krummel, who previously practiced law in Texas, told Johnson that voicemails are not protected.
"I asked where he went to law school." Krummel told Deadspin.
Krummel says that, as a consequence of Johnson's tirade, her sponsors and the Mexican gym owner (who was privy to some of Johnson's bigoted remarks) told the promoter, Legacy Promotions, that she would not be fighting on her scheduled card and she was replaced by a Mexican fighter. Johnson and Krummel stopped speaking after that.
Reaching out to the Knicks
After leading the UNLV basketball program to its only national title at the 1990 Final Four, Johnson was drafted No. 1 overall by Charlotte and was one of the NBA's revered pitchmen at the peak of his celebrity. The former All-Star ended his 10-year NBA career at the age of 32 due to back and knee ailments, but Johnson parlayed his status with the Knicks into a plum job with the organization in 2012, as a business and basketball operations representative tasked with assisting in marketing, player development, and community relations. Krummel says she told the Knicks about Johnson's behavior, but never heard back from them.
"The Knicks had hired him to start back in July as community relations and spokesperson," Krummel told Deadspin. "So I "snitched" to the MSG consumer complaint line. (MSG Sports is the parent company that owns the New York Knicks) I don't know what happened next," Krummel explained. "[Executive VP and General Counsel for MSG Sports Jamaal] Lesane wrote to me saying he was looking into it and I never heard back." 
On June 20, Lesane told Krummel in an email that the matter was being looked into.
At the time of publication, Lesane had not responded to Deadspin's request for comment.
In a string of text messages on June 15, Johnson attempted to smooth things over by suggesting Krummel needed therapy and implying he lost his job. Then, on July 6th, Krummel received a cryptic text from a Northeastern Texas 903 area code that read "Got you. The person you thought you could trust showed it. Be ready I'm coming."
Half an hour later, Krummel received a phone call from a local Vegas 702-area code with someone on the line repeatedly asking, "Is this Kasey?" After demanding to know who was calling, Krummel says they hung up, but two hours later the 903-number texted back an even more unhinged message.
"Be ready to stand your ground [sic] you asked for this. Karma. I owe you nothing but you will pay in full +interest."
The multiple anonymous texts and calls spooked Krummel enough to alert the authorities for a second time.
"My guy friend called that 903 number last night to tell L to back off and said it's a "TextNow" number that goes straight to voicemail. I believe it is Larry because who else would contact me from a Tyler Texas area code?"According to multiple sources, Johnson was born in Tyler and has lived in multiple residences in Dallas County, Tex.

Deadspin reached out to Johnson by phone, email, and text about the allegations levied against him but, as of the time of publication, he had not returned our messages. In response to what she believes were continuing harassing calls and messages from Johnson, Krummel filed a second police report with Las Vegas Metropolitan Police on Thursday, July 7, 2023, this time informing police she wished to press charges.
This story has been updated to reflect the fact that Kasey Krummel is a former lawyer. It originally used Krummel's description of being a "recovering lawyer."