An anonymous former Panthers employee wrote a lengthy article for Sports Illustrated today, detailing how Panthers owner Jerry Richardson sexually harassed her and addressing his myriad defenders in the NFL world. Richardson will soon sell the team because of the NFL's investigation into allegations of workplace harassment, and per SI's reporting, he's refusing to release former employees from their NDAs, which is holding up the league's investigation. The unnamed employee was "frustrated by the rate of change" and inspired to speak out after Texans owner Bob McNair defended Richardson.

The former employee first writes to McNair, calling him out for backing Richardson and saying his assertion that Richardson was "joking" is wholly untrue, as she watched him call a longtime team scout a "nigger." She then takes the NFL to task for what she sees as a weak investigation into Richardson's conduct. "Throughout the many years I was sexually harassed by Jerry Richardson, I always believed that there was no one above him, no one whom I could tell, without repercussions, what was happening to me," she wrote. "You proved me right. You have now become another enabler." Other enablers she lists include coach Ron Rivera, the Panthers general counsel, and team employees who let the alleged climate of harassment fester.
The employee worked "directly in football," though she was not allowed in the weight room, the team plane, or practices. She says she was paid less than male employees and wasn't afforded the same perks, like free team gear. Once Richardson allegedly began to harass her, she says other team employees urged her to do whatever he asked.
I didn't know what to do when you started leaving me suggestive handwritten notes, insisting that I reply and then destroy the note. I didn't know what to do when you summoned me to your personal office, instructed me to sit in the chair across from you, pulled my chair towards you so you could sandwich my legs, which you proceeded to rub, between yours. I didn't know what to do when you called me to your stadium suite in the middle of the week so you could take off my shoes, place my legs in your lap and rub their entire length, from toes to crotch. I didn't know what to do when you asked me to turn around so you could see how my jeans looked. I didn't know what to do when you brushed my breasts to put my seat belt around me in the front seat of your car. I didn't know what to do when you put your hands on my mouth, for me to kiss them. I didn't know what to do when you asked me uncomfortable, sexually charged questions.
She shared one of the notes with SI, in which Richardson supposedly writes "I regret that I have never been able to give you pleasure":
G/O Media may get a commission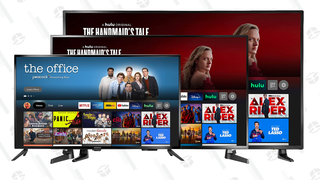 Up to 44% off
Prime Early Access - Insignia Fire TVs
In a statement to SI, the Panthers did not respond to her specific claims, though they stressed that they are committed to fostering a healthy work environment:
"Since December 2017, when we commenced an internal investigation into allegations of workplace misconduct, the organization has taken the appropriate steps to remediate any misconduct and ensure a safe and comfortable work environment. These claims are very serious and we have cooperated with the NFL's investigation and remain fully committed to improving every facet of our organization. Because this matter continues to be under an ongoing legal review, we will not comment publicly on the specifics of the allegations, but we do feel compelled to establish what we are doing to provide a healthy work environment.

Tina Becker was named COO in December, and immediately began working towards addressing the issues. The team allocated significant resources towards reforming our workplace, restructured executive responsibilities and added a comprehensive training program on harassment and diversity and inclusion issues. We have overhauled our related policies and procedures, including improvements in our reporting to the League, all to make certain that employees who have a concern have multiple ways to report those concerns and can feel comfortable doing so. We have instituted several new employee programs, all aimed at creating an environment in which our staff can feel proud to work."
You can read her full letter at Sports Illustrated.