Hi everyone! Did you guys say you wanted us to write another thing about Derek Jeter? Okay! Your funeral!!!
Anyway. When I was a freshman at the University of Science, I took an expository writing course, designed to teach people how to write simple, straightforward essays with a clear premise and supportive, information-laden sentences. The idea was to strip away all non-essential information, so the premise of one's essay shone through, leaving the reader 100%, rock-solidly clear on what point one was making.
While I was taking that course, my classmate Hal Bodley of MLB.com was partying and making out with his girlfriend and cooking up this gem: which gives expository writing, the concept of "the essay," and the notions of clarity and the logic-supported argument a giant middle finger.
Jeter deserving of AL MVP Award
Premise.
Yankees captain's campaign more than simply numbers
Immediate obfuscation of premise. Off to a good start.

If Albert Pujols is a slam-dunk to win the National League Most Valuable Player Award, Derek Jeter is not too far behind to take the American League MVP Award.
G/O Media may get a commission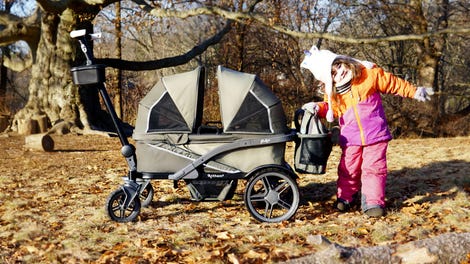 30% off
The Anthem All-Terrain Stroller Wagon Adventure Bundle
Go everywhere with your kids
This must-have bundle nets you either of Gladly's award-winning Anthem2 or Anthem4 All-Terrain Stroller Wagons as well as must-have accessories like a parent cupholder, a removable storage basket, extra-large canopies, a nap system, quilted comfort seats, a cooler bag with a padded shoulder strap, and a travel bag.
Unsupportable jibber-jabber.
Here are Pujols's stats: 1.000/1.000/4.000/5.000. That's right. He is batting a thousand, with a thousand OBP (naturally), and every hit has been a home run, and thus his OPS is a perfect 5.000. (Why aren't people talking about this more? It has to be some kind of record.) He is the best baseball player in the world. Sometimes he hits without a bat just to give the other team a chance. La Russa gave him a day off last week, and he spent it with his family watching "G-Force," and he still went 3-3. Congress just enacted a law making it illegal to watch him play without the aid of a radiation blast shield.
Derek Jeter, on the other hand, is an excellent baseball player having a very, very good year. .331/.398/.469/.867. 17 HR, 101 runs, 192 hits. At SS, which is obviously quite valuable. I will not quibble if he wins the MVP, but it should be noted that Joe Mauer is having a much better year, at the only position more valuable than SS. Mauer is .368/.433/.606/1.039, with 10 more HR. That's a better BA, better OBP, better SLG, and far more HR. For you VORPies out there (hey, VORPies!) Mauer is blowing Jeter's doors off, 81.3 to 59.8. Therefore, Hal Bodley, Derek Jeter is way, way less of a "slam dunk" for his league's MVP than Albert Pujols.
Now…make some crazy arguments why I'm wrong! Go!

When Jeter passed Lou Gehrig's record that had stood for more than 70 years over the weekend for most hits by a Yankees player, he sealed the deal.

Not that crazy! Aaaagghhhhhhh! My eyes!
Achieving the all-time hit record for a franchise – and I could be wrong here – and pardon me, sincerely, if I am – but I really do not believe I am – but again, if I am, please, please forgive me kind sir, for I am but a humble blogger, and you work for MLB.com, so your expertise in the matter is not to be taken lightly, and I understand that – but in any case, what I was about to say was: achieving the all-time hit record for a franchise is, to the best of my knowledge, not fucking relevant one tiny fucking bit.

Sure, you can argue the honor should go to the Minnesota Twins' Joe Mauer, or even Jeter's teammate, Mark Teixeira, but if the Yankees captain isn't MVP, the voting baseball writers should be investigated.

The BBWAA should be investigated. For giving the MVP. To someone. Who is having. A. Better. Year.
Sure, you can argue that "Revolver" is a better album then David Lee Roth's "Eat 'Em and Smile," but David Lee Roth's "Eat 'Em and Smile" should still win the award for best album ever. I mean, that's a no-brainer.
When Jeter collected his 2,722nd hit at Yankee Stadium late Friday night, it was another of those cherished moments in baseball history — like the night in 1985, when Pete Rose passed Ty Cobb's all-time hits record, or 1995, when Gehrig's consecutive games record was shattered by Cal Ripken Jr.
No, sir, it was not. It was not like that. Because Pete Rose broke the all-time record for hits. That's the most fundamental, salt-of-the-baseball-earth record that exists. Hits. He has the most hits. That's so, just, rock-solid and American. And when Ripken showed up that day and went to work, he had been at work every single day for like 13+ years. No sick days, no injury days, no "I don't feel like it" days. And at the time, coming off the strike, what he did really helped the average baseball fan reconnect with the game, I think. It helped take the edge off the "millionaires fighting billionaires" thing that was legitimately threatening the sport. Ripken and Rose transcended.
Derek Jeter broke his team record for hits.
I know the team is a famous team, and has had many great players, but can we get a fucking grip? Does anyone who's not a Yankee fan give a shit about Derek Jeter breaking his team record for hits? He's a great player, he's 35, he's very good at baseball, he's a Hall of Famer. But you're trying to tell me that Derek Jeter breaking his team record for hits was as cherished a moment in baseball history as Pete Rose breaking the ALL-TIME RECORD FOR HITS FROM ALL PEOPLE ON ALL TEAMS EVERYWHERE IN HISTORY?
Oh – wait. No. You're not. What you're actually trying to do is way crazier, which is to tell me that the fact that Derek Jeter broke his team record for hits means that he should be the 2009 AL MVP.

The legendary Gehrig, also a Yankees captain, was beloved and respected and for someone with the same admirable qualities to now hold this record is fitting.
To: the BBWAA
Re: MVP Voting
Hey Guys,
Just wanted to remind you of the guidelines for MVP voting, because there's been some confusion this year. It's really quite simple. You should cast your vote based on these four criteria:
1. Is the player beloved?
2. Is the player respected?
3. Is the player a Yankee?
4. Did the player do something that another Yankee – who was also beloved and respected – had once done?
Any questions, please direct them to Jeannie in my office. She can send you a type-written sheet with these guidelines, which can be mounted side-by-side with a picture of Derek Jeter pumping his fist and will be suitable for framing.
Cordially,
Bud Selig


The MVP Award should go to the player whose leadership and value has contributed to his team's success more than any other individual. Jeter has been that player for the Yankees as they storm to another AL East title.
Derek Jeter is seventh in OPS. On his own team. He is eighth in HR. He is sixth on his team in doubles. Sixth! The guy who hits seventh on the Yankees has an .865 OPS (same as Jeter) and is hitting .319 and plays second base. The guy who hits eighth on the Yankees has 27 home runs. The Yankees have pinch-hitters who are better than anyone on the A's. The Yankees' line-up is looney-tunes. Also, they have some pitchers who are good.
The Twins, meanwhile, have Joe Mauer and fourteen guys who either are Nick Punto or look and play exactly like Nick Punto.

There may be teammates who have higher batting averages, hit more homers, driven in more runs, but no one has been more valuable to the Yankees this season.
There may be more delicious foods than water chestnuts, but water chestnuts are the most delicious food.
You can't just say that. I'm sorry, but Mrs. Wehrtover, my expos teacher, would get out her famous red marker and scribble: ?????? all over your paper and give you a C-minus. She was tough, Mrs. Wehrtover, and she wasn't much of a looker, but she had a heart of gold.
The Yankees are the most successful, renowned team in Major League history.
Relevance to 2009 AL MVP Race: [N/A]

When you think of them, the names of Gehrig, Babe Ruth, Joe DiMaggio and Mickey Mantle come to mind.
Relevance to 2009 AL MVP Race: [N/A] (And for the record, what I think of is George Steinbrenner being banned for life for spying on Dave Winfield, Chuck Knoblauch's phantom tag on Jose Offerman, and how for some reason when Jeffrey Maier cheated and turned a Derek Jeter fly ball out into a home run, that somehow meant that Derek Jeter = super clutch.)
Years from now, Jeter's name will be uttered in the same breath.
Relevance to 2009 AL MVP Race: [N/A]
All those iconic Yankees made their marks, but none collected more base hits in their careers than Jeter.
Relevance to 2009 AL MVP Race: [N/A].
I'm just going to keep doing this. You guys can skip ahead or something.

Ruth had 2,518 hits, Mantle had 2,415 and DiMaggio, 2,214. It's amazing none reached the 3,000-hit standard.
Did you guys know that if you tried to reach the moon by stacking nickels on top of each other, it would take more than 4 trillion nickels? Isn't that amazing? I agree. So we're in agreement — let's give Derek Jeter the 2009 AL MVP.

"For those who say today's game cannot produce legendary players, I have two words: Derek Jeter," Yankees owner George Steinbrenner said in a statement after the record fell.

…Who said today's game cannot produce legendary players?

"As historic and significant as becoming the Yankees' all-time hits leader is, the accomplishment is all the more impressive because Derek is one of the finest young men playing the game today."
That's a very nice sentiment, Person Who Pretended to be George Steinbrenner and Wrote That. Well done.

When I read Steinbrenner's words, I thought back to a day in his Tampa office at nearly a decade ago when he complained about the fact Jeter's nightlife was a distraction to his on-field play.

Quick reminder: this article is supposed to be about why Derek Jeter is a "slam-dunk" for 2009 AL MVP. We are off course, now, a little, I think.
The Boss had learned his shortstop had been out late the night before a game at a birthday party.
"Let me put it this way: I think Derek had better pay more attention to the ballgame than he does the women," Steinbrenner said. "I love him, but during the season, I want him completely concentrating on the team."
To seal the relationship not too long after, the Boss and Jeter made a Visa TV commercial that made light of the Jeter's late-night escapades. It was hilarious.
To: the BBWAA
Re: MVP Voting
Hey Guys,
Sorry – huge mistake in the last memo. Forgot to add – and I know you already know this – that your vote for 2009 AL MVP should also take into account whether the Yankee you are voting for has ever made a fucking VISA commercial. And it goes without saying that your vote should take into account whether or not Hal Bodley thought the commercial was humorous.
Sorry about cursing in this letter,
Bud Selig
Jeter, 35, grew up a Yankees fan and has worn the prestigious pinstripes with pride.

What are we even talking about, at this point?
Through Sunday's games, Mauer leads the AL with a .366 batting average. Jeter is fourth at .332, with 17 homers, 63 RBIs and 192 hits.

This is just dropped in, to the middle of this argument, with no explanation. It's like writing a long, long essay about how Brazil is the largest country in the world, and then casually mentioning, thirty paragraphs in, that Russia is actually way bigger.
For now, though, talk of the MVP Award is far down Jeter's list of priorities.
The closest he's come to the honor was in 2006, when he finished second to Minnesota's Justin Morneau.

2006 is the year this article should have been written. Derek Jeter absolutely deserved the MVP in 2006. Led the league in VORP. Morneau was a horrifyingly bad choice – 13th in VORP (Mauer was 4th) and was the winner due mostly to things like RBI and maybe Canadianness or something. 2006 = Jeter, easily. 2009 = Mauer. Although, now that I think about it, has Mauer broken one single career team record in anything?! Or done one credit card commercial with Carl Pohlad?!?!
Gehrig was MVP just once — in 1936, when he batted .354 with 49 homers, 152 RBIs and 205 hits.

Seriously. What are we talking about?

"I've always had a tough time in my career enjoying things as they happen, because I'm always trying to look to the next game," Jeter said. "It was devastating and a great disappointment not getting to the playoffs last year. Returning is our main goal now."

Why put this quote here? This has nothing to do with the previous paragraph, and less to do with the next. Were she to read this, Mrs. Wehrtover would get out her famous red pen and write, "This is fucking nonsense" and set your essay on fire. Then she would remove the pencil from her hair and take off her glasses and oh my God Mrs. Wehrtover is a super hottie!!!!
Around the Yankees clubhouse, Jeter is the MVP.
To: the BBWAA
Re: MVP Voting
Hey Guys,
One last thing. It goes without saying that you should also take into consideration what the Yankee players think.
Kanye was framed,
Bud Selig
Manager Joe Girardi won't say that, but puts his sentiments this way: "Derek is doing everything for us. He's stealing bases, playing good defense and getting on base early in the game.
"The way he gets us started is incredible. He's up in the first inning, and it is like he's saying, 'It's time to play right now. Let's get started. Let's not wait three or four innings to go after them.'"

This is the longest article ever written. Thank God I don't have to analyze it for no reason and send it to someone I've never met so he can publish it on a blog I don't write for.
I think it's pretty goddamn obvious that Derek Jeter should be the MVP. I mean, we've established that he set the Yankee career record for hits this year, which is traditionally a rubber-stamp for AL MVP. We've established that he and his owner once filmed a commercial for a credit card company, which should end the debate right there. But just to be extra, extra sure Derek Jeter deserves the 2009 AL MVP, can we just real quick check in with Johnny Damon to make sure that Damon can characterize Jeter with one of the most boring and least-descriptive baseball clichés known to man?

When outfielder Johnny Damon came to the Yankees after playing for the Red Sox, he said, "There's something about Derek that I found out: He makes everyone around him play better."
Well there you go. That about does it. Although, there is some question, regarding Jeter's candidacy for 2009 AL MVP, about whether he wears the pinstripes with the requisite pride both on and off the field.

Jeter is not only a leader when he's wearing the pinstripes in the clubhouse and on the field, he carries that same persona away from Yankee Stadium.

Man, Bodley – you are covering every conceivable angle of Derek Jeter's candidacy for 2009 AL MVP. I mean, I do still have some MVP-related questions in re: whether Jeter takes time for people who approach him, even on dark days.

I can never remember him embarrassing the Yankees. He seems to always take time for most anyone who approaches him, even on dark days.
Check. Great work. And I'm glad you do nothing at all to explain what the fuck "He seems to always take time for most anyone who approaches him, even on dark days" means. Because that is definitely a crystal clear sentence, when you are talking about whether someone should be MVP of the AL.

...this is arguably Jeter's finest year and it will be a shame if MVP voters don't examine closely his season. It's much more than mere numbers.
Amen, brother. The MVP is about taking time for most anyone who approaches someone, even on dark days. It's about VISA ads and being 21.5 runs behind the league leader in VORP and wearing the pinstripes with pride. It's about calm eyes, and making people around you better. Winning the 2009 MVP is about the sum total of all the hits you have gotten for a specific team from 1995 to the present, and whether or not anyone else who has ever played for that team accumulated more hits. The 2009 AL MVP is about the Yankees, and Lou Gehrig, and Babe Ruth, and things Johnny Damon has "found out." It's about intangibles, dammit. Intangibles.
He has to be the AL MVP.
I couldn't agree more.
"He" is Joe Mauer, right? I kind of tuned you out for a while. I assume you mean Joe Mauer.