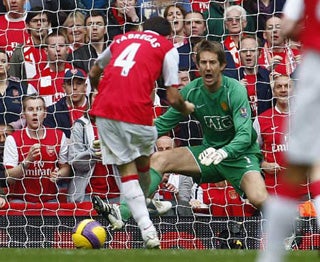 David Hirshey writes regularly for Deadspin about soccer.
Let's just say I was due.
If Martina Hingis had wandered onto my London flight naked and slathered in Toblerone, rocking a gram of cocaine and offering to induct me into her Mile High Club, I still would have been due. It wasn't even the hour and a half wait on the tarmac that drove me into a homicidal rage, although I did imagine my hands around the flight attendant's neck when she said that no alcoholic beverages would be served while we were still on the ground. Nor did I lose my shit when it took me 45 minutes to claim my luggage because some highly skilled baggage handler had knocked my suitcase off the conveyer belt and behind the curtain. Those were mere annoyances compared to the terrible realization that I had declined $500 from a scalper for my ticket to the Game To End All Games—only to be rewarded with a first half to end all of my will to live.
So when Arsenal twice came from behind to equalize in the 92nd minute and retain their place at the Prem summit, I viewed it as karmic payback. I also viewed it from the upper deck at Emirates Stadium, which detonated with such orgasmic joy when it became clear that Gallas' shot had crossed the line that I found myself hugging the woman next to me and hoping her boyfriend didn't notice the tent in my pants. (I'm not saying she was into me, but if we had actually won the game, I might have gotten a rusty trombone.)
That it was the ancient and venerable Gallas—at 30, Arsenal's captain is seven years older than the average Gunner—who ran the length of the pitch to score the equalizer, seemed a fitting exclamation point to a game that never quite lived up to Wenger's pre-match hype as "a work of art" that would "stop the world."
For one thing, Arsenal showed more heart than art, its usual masterclass of incisive passing and quick interchanges disrupted by the likes of Anderson and Hargreaves who snapped at the heels of Fabregas and Hleb as they tried to weave their magic. Sir Alex, meanwhile, was not about to give Wenger's insolent kids the time and space to control the ball and strut their skill, even if it meant having Rooney and Giggs tracking back to the edge of their own box. For two teams who pride themselves on their freeflowing attacking soccer, the first half was strangely defensive and tentative until the final minute.
Desperately in need of a beer to help me forget my lunatic decision to attend what I was certain would be an epic match, I was on my way to the concession stand when I turned around just in time to see Rooney barge in front of Gallas and scuff his shot off the Frenchman's arm and past Almunia at the near post. 1-0 ManU. Make that two Fosters, mate, I said to the bartender.
I was so hellbent on blotting out the travesty of ManU's goal that I was oblivious to the large man in dreads blocking the way to my seat. "You can't bring that in here," he said, looking at me as if I was carrying the Avian flu.
"Why not?" I replied indignantly until I noticed his orange vest with the words "Arsenal Steward" emblazoned on it. When he explained that no alcoholic beverages were allowed in the stands, I tried to play the American card. "I'm from the States, where we can drink wherever we want," I lied. But he wasn't buying."You either have to finish your beer back at the bar" he said, "or I will throw it out for you". I was pondering my Sophie's Choice when I realized the game had resumed. And what's this? Arsenal was attacking as if they had suddenly remembered why they had been unbeaten in 13 straight matches.
The ball zipped from Hleb to Fabregas to Adebayour to Eboue, to Sagna back to Adebayour whose shot caromed off Van der Sar and popped loose to Sagna who picked out Fabregas in front of the goal. With nerveless accuracy, the Spaniard rolled the ball into the far corner of the goal. Six one-touch passes in the space of 20 mesmerizing seconds and it was 1-1. As Fabregas wheeled in delight, I'm afraid so did I, flinging my arms heavenward. I offered to pay the dry cleaning bill of the steward's now beer-drenched vest but he just laughed and said, "you're lucky I'm an Arsenal fan."
Could it be, I thought to myself, after all I've endured—the flight delays, the lost luggage, Arsenal's crap first half—could my suffering finally be over?
Nah.
Never in my life would I have thought the following three words would escape my lips: "Bring back Lehmann." But that's what I cried in the 82nd minute when Almunia, raced ten yards off his line like a man whose peroxided hair is on fire, hoping to smother Evra's shot. Only seeing the keeper so far out of goal, Evra simply pulled the ball back to Ronaldo, all alone in front. By all rights, that should have been lights out for the baby Gunners. They had finally come up against a team that had equal quality, brute strength, and championship experience.
And yet Arsenal refused to go gently. It turns out that for all their dazzling technical skills, they are not without a fair amount of grit.
"We had to fight," Gallas said later. "We decided if we had to die, we would die together." In the end, the only one who looked like he would die was Fergie. Despite his public show of respect for Wenger and his stylish football, Sir Alex has always resented the Frenchman's imperious attitude toward the British game Ferguson has bestrode for 20 years.
As the seconds ticked down Saturday, Fergie, doing his best Mark Cuban impersonation, was screaming and gesticulating maniacally at the referee that Arsenal's equalizer should not count because Saha had been mugged in the buildup to the Gallas goal.
Poor Fergie. What a terrible injustice. To have the result snatched away two years in a row at the death is a cruel injustice. (Anybody remember Thierry Somebody's thumping header on the final play of last year's epic?) Good thing in my delerium, I didn't lean over the railing and accidentally spill my non-alcoholic water on him.Though judging by the fuchsia color of his face, he might have done to me what that drunken yob did to him last month on the train platform—introduce the toe of his pointy shoes to my ball sack. Not surprisingly, the Arsenal fans behind the ManU bench made some not so subtle references to Fergie's bruised swingers that caused Sir Alex to moan afterwards about "the disgraceful lack of security" at the Emirates.
Obviously, he's never tried to sneak a beer into the stands.