I'm having a hard time deciding whether this is real or fake, which means WWE has done its job well.
At a show in Cape Town, South Africa, yesterday, someone jumped out of the seats and into the ring after Randy Orton's win, and delivered an uppercut to his crotch. He was quickly dragged away by security. WWE released a statement noting that the fan is in jail pending criminal charges, and told TMZ that it was "not part of the show."
I'm skeptical. Though it'd be far from the first time a drunk and stupid fan went into the ring, almost as often WWE uses a "fan" attack to introduce a new wrestling.
Arguments in favor of this being an angle: The uppercut seemed exaggerated, perhaps fake. Security was remarkably slow in getting into the ring. WWE acknowledged the incident on its website, something it rarely if ever does.
Arguments in favor of this being real: The only existing video is remarkably terrible. (The above is an edited version of one that was shot sideways.) In the unedited video, Orton and another wrestler appear to take legitimate shots at the fan as he's being restrained. One fan in attendance says security was noticeably beefed up after the incident. If it's a work, it would involve an outright lie about South Africa's justice system.
G/O Media may get a commission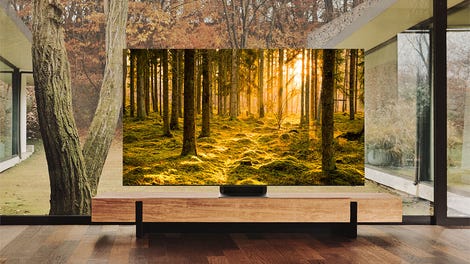 Up to 40% off
Samsung Smart TVs
As always, if it shows up on TV, we'll know it's an angle.
Update: A WWE spokesperson wrote to us (not even in response to an inquiry) to say that "the attack on Randy Orton by a fan in South Africa was not part of a storyline."