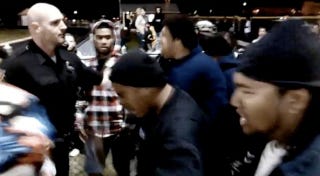 After a Thursday night high-school rivalry football game in Roosevelt, Utah, fans of the losing side "tried to boost the team's morale by performing the Haka, a fierce traditional war chant often performed at football and rugby games around the state."
As the cops ordered some 15 fans to move, chaos ensued.
A Roosevelt resident who asked to be identified only as Breana, said her husband was among the performers.

"The cops were yelling, 'Make a hole! Make a hole!' But the coaches, the players, family members were saying, 'It's OK. It's OK, Let them do it,'" she said.

Witnesses say police didn't listen. Instead they began spraying the crowd of performers, players and fans with pepper spray.

"It was continual spraying and spraying," Breana said.

She said her husband was hit in the face with a police baton and sprayed with the pepper spray. Her 4-year-old son was also exposed to the spray, Breana said.
Roosevelt police pepper spray fans after high school football game [Deseret News]