Though Americans may have our political differences, we can all agree that children should not be subjected to grotesque displays of nudism and sexual organs. Correction: we cannot all agree on this, judging by the latest uproar found on the internet.
Animals: educational? Yes. But also: naked.
Reproduction: part of life? Yes. But also: pornographic.
Everyone knows these basic truths. Everyone except, I am sorry to say, the far leftists who run the Animal Adventure Park, a "live-streaming" pornography operation masquerading as an "interactive educational animal park" in upstate New York.
Interactive? I'll say. A little too interactive.
***NSFW WARNING—18 AND OVER ONLY***: This animal park has posted on the internet site YouTube a live feed of a pregnant giraffe. The giraffe is due to give birth at any moment. When doing so, the giraffe will be naked, with its sexual organs on full display. Yesterday, USA Today reports, "YouTube shut off the giraffe live stream because of 'nudity and sexual content.'" And rightly so. Many children today are internet-savvy enough to stumble across this sort of animalistic sexuality without a parent in the room.
G/O Media may get a commission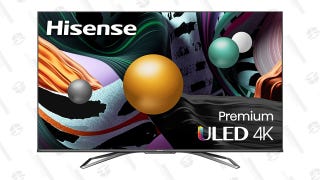 Save $350
Hisense ULED 65" Android 4K HDR Smart TV
I'm sad to report that pressure from "anything goes" supporters of far left sexual norms has caused YouTube to bring back this livestream. I encourage you not to watch it. Instead, take the time to introduce your children to more modest, mainstream animal role models.