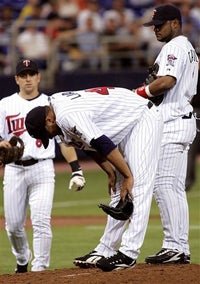 We can't imagine what it must be like to be a fan of an American League Central team right now. (Unless of course you're an Indians or Royals fan, in which case you've certainly moved on to the unparalleled bundles of joy that are the Browns and Chiefs.)
White Sox fans have the sinking feeling that even though this year's team might actually be better than last year's, it's not going to catch the same injury breaks or general good cheer last year's model enjoyed. It's the year after for these guys, and they're in that strange spot of either being the favorites or missing everything entirely. Just when you're at your lowest, your guy almost throws a perfect game.
Tigers fans, man, we have no idea how these guys are keeping it together. We honestly don't. If they don't make the playoffs ... well ... we can't imagine.
And the team blessed of late had the worst news of all last night, which Twins rookie star Francisco Liriano injuring himself again last night, an elbow pop that will keep him out the rest of the season and could necessitate Tommy John surgery. After months of waiting for him to come back, the Twins watched him disintegrate right there, out of nowhere.
Whoever wins this division and/or takes the wild card will have earned it, and whoever doesn't make it will likely spend the winter flicking their lights on and off.
Once Upon A Time, The End [Aaron Gleeman]