Yes, poor Whitney Isleib is getting some mixed reviews after she decided to shoe polish her face in order to authenticate her Lil' Wayne costume, but there is decidedly less uproar over Deron Williams' terrifying Cal Ripken costume.
Williams posed for this photo which was released to 105.3's Brasky & Gregg show, donning an Orioles hat and ghastly make-up. This is not in response to Ms. Isleib's costume whatsoever, it's just a black dude dressing up like a white dude for Halloween.
Unfortunately for Isleib, her costume is still getting scrutinized by guilt-ridden white people and African-American studies professors from California:
Mark Q. Sawyer, associate professor of political science and African-American studies at the University of California at Los Angeles, said the cheerleader pictures suggest this is more an issue of bad judgment than actual racism. He said that many young people are unaware of the deeply offensive history of blackface performances.

"She probably asked her black friends about it with the idea that they could exonerate her," Sawyer said
But as one reader rationally pointed out — she's not even technically dressed in "blackface.":
The term "blackface" has a connotation stemming from minstrel shows in the 19th century where white people dressed as black people to embellish offensive stereotypes and racial insensitivity for comedic purposes. Was she painted black? Sure. Was she adhering to the racist undertone that "blackface" implies? I believe not, and according to the black people who called into Dallas radio stations this morning regarding this, no. I don't think anyone is offended by her outfit. Blackface implies racism. I don't think her outfit is racist. It is just, to quote My Cousin Vinny, a dead-on-balls accurate Lil' Wayne get up.
G/O Media may get a commission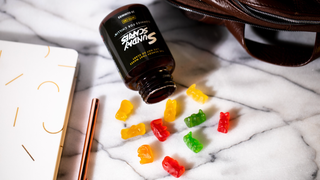 10mg CBD Gummies (22-Count)
Fair enough. The Cowboys haven't officially fired her or anything and have only been quoted as saying they're handling it internally at this point. She also (wisely) pulled down her Facebook page but hopefully that's the end of it and she can go back to her normal everyday life of doing whatever it is she does when she's not a Cowboys cheerleader. But that Deron Williams, man — he's a racist dick.
Dallas Cowboys Cheerleader Criticized After Blackface Halloween Photos Emerge [Dallas Morning News]