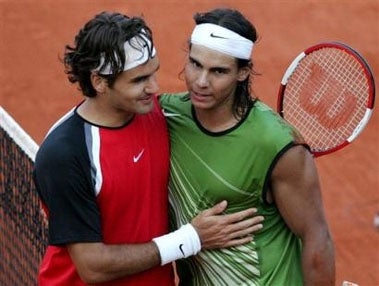 So this is what we've been reduced to in men's tennis: Roger Federer is so dominant that the only match worth watching is the one where there's a good chance he'll lose.
It is the French Open final (right now) and it involves Federer's nemesis, Rafael Nadal, who has mastered not just clay surfaces but a basic tenet of competition when you face a virtual monopoly, as Federer is in tennis:
Pick something very specific to do slightly better than the dominant player. You won't win all the time, but you will win SOME of the time. And in the Federer Era, that's all you can hope for.
Still, there's no question: On clay, Nadal owns Federer's ass. You just know it irks Roger to no end, because Nadal is the only thing standing between him and not just one Grand Slam, but "Glutton-at-Denny's" proportions.
That's why this morning's French Open men's final qualifies as one of those "If you watch one tennis match all year..." events:
Arguably the most dominant athlete in the world, trying to finally beat back the one-trick pony lined up between him and true immortality.
— D.S.
UPDATE: Nadal crushes Federer in 4 sets. The agony continues.
Roger vs. Rafa [Official French Open site]