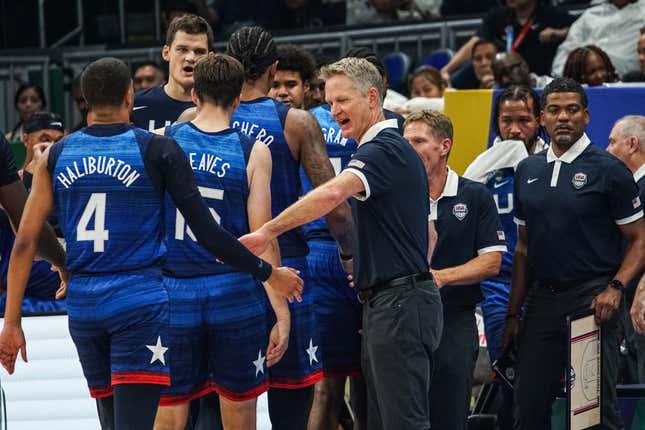 Americans don't care when Team USA wins non-gold medal games. But they do give a damn if they lose them.
Stop dunking! Giannis' injury could've been prevented | Andy Reacts
Having a 41-point second-half lead in the quarterfinals of the FIBA Basketball World Cup is nothing to snooze at. Neither is a 100-63 win over Italy. But for Team USA — thanks to the Dream Team and the Coach K era — nothing is ever good enough. Winning doesn't suffice, you have to dominate. And on the rare occasions when losses happen, vengeance must be obtained.

Outside of their 110-62 win over Jordan in group play, and their 117-74 victory against Puerto Rico during their showcase in Las Vegas last month, Tuesday morning was the first time that Team USA has looked like, well…Team USA. Coming off of a 110-104 loss to Lithuania on Sunday — in which Team USA allowed their opponent to shoot 56 percent from three (14-for-25) and grab 16 more rebounds (43 to 27) than them — the outcome for the Italians has already been decided: Eliminate Team USA from the tournament, or get ran off the floor.

The latter happened on a day in which Team USA knocked down 17 threes, grabbed 51 rebounds, and made a highlight reel of their "competition."

But in a game in which Team USA led by 10 in the first quarter, 22 at the half, and by more than 30 for almost all of the final 20 minutes, we can only wonder if this team — players and coaches included — that doesn't feature a single person with any national or Olympic team experience finally "got it" on Tuesday.

"We were ready. And we're going to stay ready until we get out of here," said Mikal Bridges after the game.
To win international competitions things can't be considered a "business trip," as it has to become something personal.

"The worst loss I've ever had as a coach was with our national team at the World Championships in 2006 to Greece because that was for my country and you don't get too many of them, though that's the only loss we've had," said Coach K about the one loss that still stings. Of all the games he played in as a player for Bobby Knight at Army and all the games he won and lost at Duke, it's the one blemish he took in a tournament two years before the 2008 Olympics that still bothers him.

While it might only be the second most popular sport in America — behind football — basketball has been the one sport that the United States has always dominated internationally. Since basketball started being played at the Olympics, only four times has the gold medal-winning team not worn the red, white, and blue. The number drops to three on the women's side.

And while it's easy to assume that American dominance is supposed to be automatic, for those of us of a certain age we must remember that while the Dream Team and Coach K's run feel like they happened yesterday, they didn't. Team USA currently fields one of the youngest national teams in the world, as Bobby Portis and Josh Hart are the oldest players on the roster at 28 — which means they were three when the Dream Team won gold in 1992. And when the United States took home bronze in 2004, everyone on this current roster was age 10 or younger.

They don't know what they don't know because this team isn't old enough to know.

Team USA will face the winner of Germany/Latvia in the semifinals. The winner plays for gold, the loser goes to the third-place game. In sports, you're either the hunter or the hunted. The hunter is chasing something. The hunted has to figure out a way not to get caught. That's the predicament a team full of inexperienced players and coaches are in right now as they play for a country that everyone wants to beat, with the expectation that losing isn't an option.

That's why Steve Kerr should adopt Marshawn Lynch's mentality when it comes to sustained success, and use it for pregame speeches. "Run through a motherf*cker face. Then you won't have to worry about them no more."