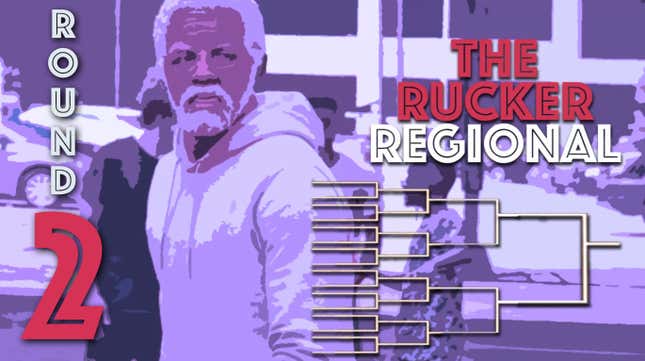 The only havoc in the first round of the Rucker Regional was a 5-12 upset, which has become almost commonplace in March Madnesses everywhere. We'll see how things tighten up heading into the Silver Screen 16 with matchups like Kyrie Irving alter ego Uncle Drew getting his first real test of the tourney in Michael Jordan alter ego Johnny Kilroy. It's a tough draw reminiscent of Baylor-North Carolina over in the Men's Tournament that saw the eight-seeded Tar Heels upset the reigning champion, and you know the similarity wasn't lost on Jorda— err, Kilroy.

The rest of the Rucker shakes out with a bevy of cult classic battles, including Above the Rim's Shep facing The Boondocks' Billy Matthews, '90s Fresh Prince making a bid to take down Teen Wolf, and Jesus Shuttlesworth versus Calvin Cambridge. Did we plan to have two surly hoopers from dark movies go up against school-aged children in the second round? No, it just fell that way.
Every vote becomes more crucial as the contestants drop out, so make sure to vote @Deadspin on Twitter or throughout this article via the conveniently embedded tweets.