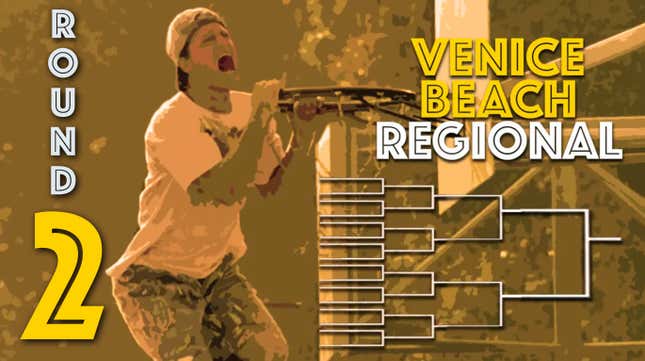 The first round of the Venice Beach Regional went mostly according to the seedings, with an easily predicted upset (12-seed Buggs beating the 5-seed Pound in a Space Jam rematch), and one I didn't see coming (13-seed Clarence Withers toppling 4-seed Quincy McCall). At the top of the bracket, Billy Hoyle is in a battle of smart asses with Jim Halpert, and the winner will get a double-digit seed regardless, as the aforementioned 12 and 13 hoopers face each other to continue their Cinderella run.

Toward the bottom, we're getting delightfully close to a Butch McRae-Neon Boudeaux/Shaq-Penny duel that would pit the former on- and off-screen teammates against one another. Neon has NBA Street's Stretch, and McRae faces The White Shadow's Ken Reeves.
Picking your favorites is only going to get more difficult as the tournament progresses, so make sure to check out @Deadspin on Twitter to vote on the next round of games (or simply read on and vote via the embedded Tweets). And, thank you, tweeters, for logging more than 3,000 total votes in the Venice Bracket alone.