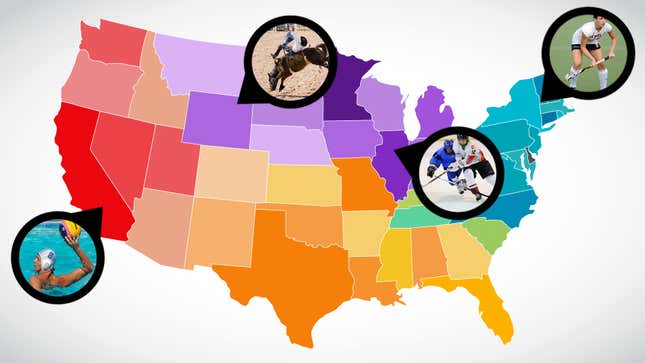 America is a beautiful, horrifying, crazy-ass mishmash of distinct geographic regions, as we know from watching John King's index finger on election night. This extends to all aspects of American life, of which the most important is obviously sports. Beyond the televised pro leagues (and their college counterparts), the actual sports that you and the people around you have played vary widely based on where you grew up. Below are four such sports with distinct regional territories.
Can the Florida Panthers make a comeback? | Agree to Disagree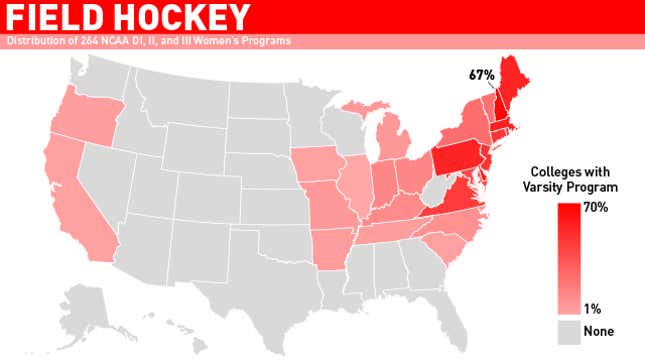 The prep-school sport: Field hockey has its roots in 19th-century British public schools (in Britain public=private), and in America its domain is the prep-school-dominated Northeast and Mid-Atlantic. Eighty-four percent of NCAA programs can be found in these two regions, with over 50 percent of colleges in New Hampshire, Delaware, Massachusetts, Pennsylvania, and Maine participating. Field hockey's gradual spread can be seen in its Midwestern and Pacific footholds; in many ways it's not far behind its preppy sibling lacrosse, which was a highly regional sport until its surprising westward expansion in recent years.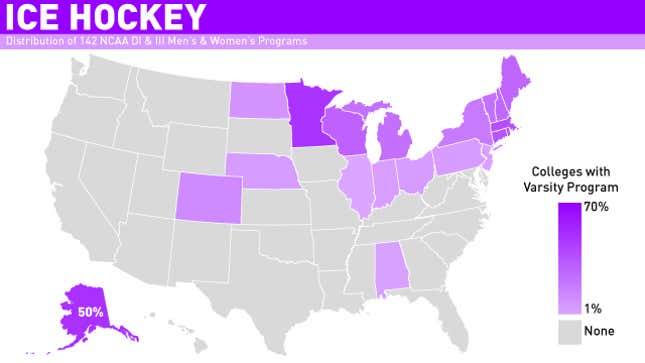 The Great White North sport: Ice hockey was founded in Canada, and while NHL teams have gradually drifted south the North still dominates at the college level. Eight-seven percent of NCAA teams are located in New England or in states that border Canada, and Alaska and Minnesota are the hockey-densest with, respectively, 50 percent and 49 percent of their colleges hosting NCAA programs. Alabama-Hunstville is the oddest exception, having hosted an NCAA team since 1986 thanks to Northern scientists who moved there to work in the nearby Marshall Space Flight Center.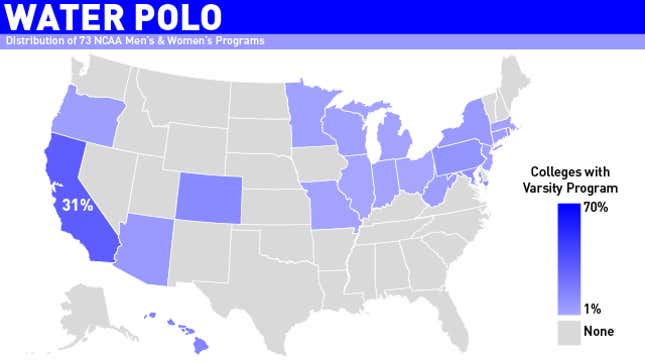 The Golden State sport: The state has an absolute chokehold on collegiate water polo, hosting 45 percent of NCAA programs but more tellingly producing the two finalists in all 43 national championships. Club and high school water polo is also common in Florida and Texas—perhaps California's dominance has kept these states from pursuing their own NCAA programs.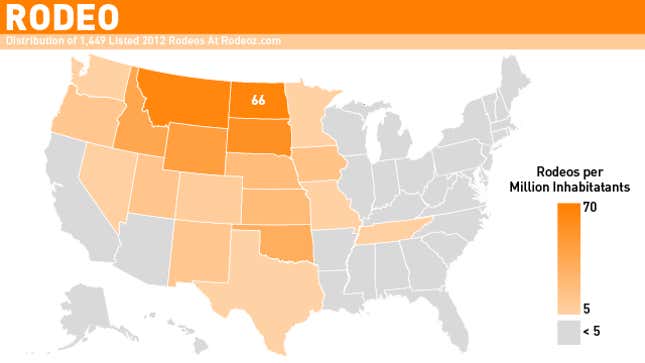 The Big Sky sport: It should come as no surprise that rodeo—a collection of events ranging from bullriding to the greatest sport of all time—is most popular in cattle country. Texas hosted the most rodeos in 2012 at 165, but Montana and North Dakota host about 10 times more on a per capita basis. An attempt to nationalize (and monetize) the sport is well underway, as evidenced by the development of professional leagues like the hipster-confusing PBR. Only four states did not host any rodeos in 2012.
Suggestions? Leave 'em in the discussion below. Top image by Jim Cooke. H/t to Meaghan M. and Andy G.