LAS VEGAS — On Sept. 11, firefighters in Clark County, Nev., somberly parked their trucks in front of the New York, New York casino, complementing a fake NY Fire boat on a fake lake underneath a fake Statue of Liberty.
So, you see, a prize fight on the anniversary of America's Tragedy is not a bizarre spectacle, by Las Vegas standards. A boxing match, notwithstanding the white-suited pimps and shrill Mexican-flag-wavers in the crowd, is just two guys in their corners, who periodically emerge into a ring to punch each other in the face. Less disconcerting than every other activity in Vegas, which, if it doesn't take place in casino, at least ends with one emerging into a casino. You eat at a restaurant and emerge into a casino. Go see a concert and emerge into a casino. Exit your hotel room, or your cab, or your strip club, and emerge into a casino. A boxing ring is a relative oasis of sanity.
Of course, the fight on Sept. 11 was held in a casino. In the Pearl Concert Theater at The Palms, a relatively intimate little crescent-shaped coliseum where the ring took up nearly the entire floor space. We reporters perched on a stage in back of the ring, craning our heads to see over the demonstrative Spanish-language TV announcer in the front row. The boxing writers in Vegas had better hair than their New York counterparts. The L.A. influence was pronounced.
I sat down just in time to see Jose Benavidez—a long-armed 18-year-old lightweight and former national Golden Gloves champ with Freddie Roach in his corner and a 7-0 record, which adds up to a huge flashing sign reading "DO NOT DARE FIGHT ME, FOOLISH MORTALS"— spend two rounds loading up and spanking the shit out of poor Manuel Del Cid's kidneys with straight, smacking right hands that had Del Cid leaning like a cripple without a cane. The ref, a humanitarian, called it off in the second round. He was booed for doing so, but sanctioning murder is illegal, even in Nevada.
Next came Mike Lee, the fightin' pride of Notre Dame, in his second professional fight. Lee entered the ring in Notre Dame-colored trunks, waving a Notre Dame flag. Lord, I prayed so hard for Mike Lee to lose, because I dislike Notre Dame, even when its clean-cut Praise God image is not being ostentatiously flaunted in a boxing ring, of all places. Alas, Lee's opponent, Alex Rivera, was unable to live up to the menace promised by his face, arm, back, and chest tattoos. Rivera was absolutely gassed out by the beginning of the second round, and allowed the cockstrong, straight-ahead Notre Dame boy to beat him around the ring before succumbing to a TKO body shot at the end of the round. Rivera was victimized primarily by his own shocking lack of stamina. "Do some roadwork!" shouted the 80 year-old boxing sharp sitting behind me, in an accurate catcall.
G/O Media may get a commission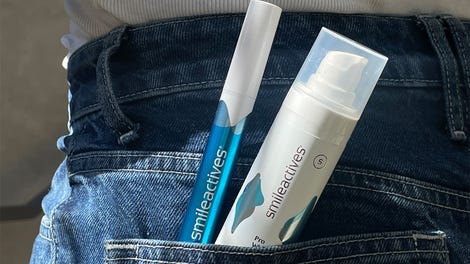 58% off
Whitening Powerhouse Pen & Gel Duo
Carlos Oliveira brought blond highlights in his hair, a loosey-goosey defense, and a 25-1 record from Brazil. He had an odd habit (one I can only assume he picked up from soccer) of looking plaintively to the ref for some assistance throughout the bout. He also spent too much time stretching, wiping sweat from his forehead, reaching for a friendly tap of his opponent's gloves, dramatically apologizing for a low blow, and generally treating the affair as a friendly sparring match rather than a real fight. Las Vegas's own Diego Magdaleno knocked Oliveira down in the second, pounded him steadily for two more, and got a stoppage a minute into the fifth. Oliveira should have stayed in Brazil, where he could have been a perfectly respectable local big shot. His 25-1 record didn't travel well.
The two fights that everyone had come to see were upon us. HBO went live. Brandon "Bam Bam" Rios—an undefeated Mexican inside-fighting brawler—entered the ring to jaunty mariachi music, followed by Anthony Peterson—a long-armed, fast-handed, sharp-punching outside fighter from D.C., whose hard-ass entourage all seemed to be chewing gum as fast as their jaws could move, a telltale sign of nervousness. "D.C. up in the house!" screamed the one 45-year-old crazy lady who's always in the top row.
Anthony Peterson was much faster than Brandon Rios. And his footwork was better. All Anthony Peterson had to do to win this fight was stay two feet away from Brandon Rios at all times. From that distance, Peterson could pop Rios all night with jabs and fast straight rights, then slide away unharmed. Rios, forced to bring the fight forward, would walk right into it. A classic boxer vs. brawler formula for success.
Peterson did exactly this, successfully, for one round. Then, in the second round, he decided to try to fight Rios inside. Why? I don't know. The reporters didn't know. Peterson's friends behind me, the ones shouting, "Don't bang with him! Box him!" didn't know. It's a fairly safe bet that Peterson's own corner didn't know. The only one who knew was Anthony Peterson, who charged right up close to Brandon Rios and gave Brandon Rios the gift of fighting Brandon Rios's favorite kind of fight. Not only did Peterson do this for the second round, he did it in the third round. And in the fourth round, when he was rocked twice with hooks and uppercuts, his eyes momentarily glazing over as his mouth filled with enough blood to be visible from 50 feet away. "His head almost fell off!" one of Peterson's friends observed after a rattling shot to the chin.
The fifth round came. Anthony Peterson, now hurt, was still, for some reason, chest to chest with the slower, harder-punching Rios. Peterson fell from a left hook. In the sixth, clearly in survival mode, he hit Rios with one, two, let's see—three low blows, without even stopping to apologize, for which he was penalized two points. At the end of the seventh, the desperate Peterson went low again, and the ref disqualified him. He would not have lasted 12 rounds, anyhow.
It was time for Yuriorkis Gamboa. In my estimation, Gamboa is one of the three or four most talented boxers on Earth today. At 126 pounds, he has the thick physique of a plastic Army action figure, and the brash, gloves-down fighting style of Roy Jones in his younger days. Gamboa often gets bored with his inevitably inferior opponents after a half a round or so, then drops his hands, puffs his chest out, and spends the rest of the (usually short) fight stalking them like a schoolyard bully. His defensive movement is superb. His hand speed is dazzling. I saw Gamboa fight the tough Tanzanian fighter Rogers Mtagwa in Madison Square Garden last year. It took exactly one triple left hook from Gamboa in round one to tell that he was a world-class fighter. Try throwing three left hooks in rapid succession, all in two seconds or so—bap-bap-BAP. Now try doing it hard enough to knock a grown man out. It ain't easy. It requires a freakish kind of torque in the rotator cuff, like throwing three major league fastballs in a row without stopping to wind up again. Gamboa has a left hook like that. So does the best boxer in the world, Floyd Mayweather. It comes in as quick as a jab, but from the side, and hard enough to floor you.
So, I had extremely high expectations for Gamboa. I expect him to knock out everyone, dramatically, is what I expect. I figured if his opponent, Orlando Salido, lasted five rounds, he could congratulate himself, after he woke up from his coma.
Well. Everyone underestimated Salido, for one thing. He was not slick, but he was tough. He bent a bit at the waist and came forward headfirst, hands high to fend off blows. Sure, he got plugged, a lot actually, but his forward lean closed the distance just enough that Gamboa couldn't seem to land his solid, killer hooks. Had Gamboa deigned to jab, he surely could have systematically crushed Salido's face on the way in. But Gamboa's shots all had a curve in them, even his right hand, which he tended to swing rather than plow straight forward like a piston. Those round punches are deadly when they land square on the knuckles, but a bit too mushy on this night, when something straight and down-the-middle was called for to stop Salido's ceaseless forward progress.
Don't get me wrong; Gamboa won every round, except maybe the eighth, when he was called for a knockdown that was really just an off-balance stumble. His footwork is magic. He still displayed the streak of cold fucking meanness that marks a lot of great fighters, backing a bloodied and already beaten Salido into the ropes in the final round, knocking him down, then running up and cracking him on the head with a right hand while he was on the ground, just because.
Gamboa earned the unanimous decision on this night. He spoke in the post-fight interview about wanting to box more technically, smarter. But there was no escaping the fact that he lacked a little of his trademark firecracker flavor. The collective lust for Gamboa Destructo Porn was not satisfied.
Likewise, Anthony Peterson before him had had a good thing going before he went and jiggered with it. He could have won by doing what everyone in the building knew he should do; instead, he decided to try something new, got bloodied, and lost. The lesson of Sept. 11 in Las Vegas: If what you're doing works, don't change it. Creativity is a mark of desperation. If you're not desperate, just continue being your own badass self.
Hamilton Nolan writes for Gawker and writes about boxing for places besides Gawker.