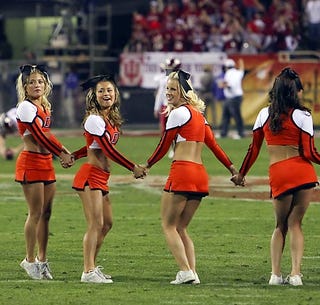 For today at least. And somehow we made it through with only 70% of you realizing I know nothing about college football. Your final HJP of the day is below.
• "Just watched an ad for the mls on the notre dame channel. Guess their target audience is fans of bad football?" - MattIsATwitNow
• "Am I the only person who was disappointed that Lou Holtz didn't shit his pants? It's a hope I have each and every Saturday in the fall. I leave disappointed everytime." - drscotter19
• "why have I been watching college football when the CFL is on? Allez Alouettes! Alouette, je te plumerai" - twoeightnine
• "Okie State uses flash cards to call their plays. Should have known" - davidatl44
• "Jesse Palmer just did finger guns to describe "all cylinders firing." METAPHOR FAIL." - sportnspice
Perhaps he was was still reeling from the Marinovich pics?