We get many fantastic tips in our inbox and from the #tips forum. Some are not so great. These are some of those #tips we specifically overlooked or ignored. All apologies.
•DirkToberFest brings us this lovely contraption, designed for women on the go. They simply...well, I'll be honest with you, I have no idea of the mechanics of women peeing.


•Major Tom To Roger Goodell is saddened by the retirement of Ryan Freel, the first baseball player to have an imaginary little friend since Pedro Martinez. (What do you mean, you can see him too?)
•ArkansasFred is shocked to learn that Vince Neil honors the memory of his dead daughter by hosting a golf tournament with scantily clad women of ill repute.
•Marth has a proposal:
Not necessarily a tip, but an idea: Deadspin Power Rankings. Go.
Maybe, but we'll just get accused of a NoLIta bias.
•Phintastic thinks it's news that Don King had $1 million in cash in a duffel bag. We think he must have been traveling light that day.
G/O Media may get a commission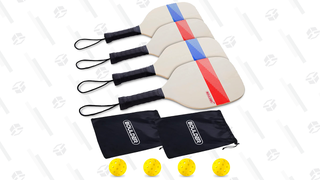 It's Pickleball
Pickleball Sets
•Phintastic again, with the story of a fat loudmouth getting a star on the Hollywood Walk of Fame. No, not Berman.
•Fuck you, Samer Ocho Cinco. I've had "We Like Pizza (Radio Version)" in my head for like two goddamn days now.
•666DVL with a link to the strangest Craigslist ad of all time; let's just say it involves mandatory bowel movement records.
•See you suckers later has more deliciously unfounded LeBron gossip:
LeBron James checks into hotels under the name "Bruce Wayne", according to my friend who manages a hotel where LeBron stays in LA.

I can only assume Delonte West checks in as "Thomas Wayne."
And Shaq as "Barbara Gordon," paralyzed from the waist down.
Consider this your weekly reminder that the machinery of Deadspin is oiled with the blood of #tips. Do your part, comrades.