One of the most enjoyable things about international soccer is the way you can notice various stylistic through-lines. Each nation has its particular soccer heritage—sometimes a broad affinity for a certain type of athlete, other times a specific formation or tactical ideology—and how this in turn manifests itself from year to year, team to team, tournament to tournament is fascinating.
What's maybe even more fascinating is how this is reflected across the sexes. Take the U.S., for example. Our USMNT has for so long been built upon a foundation of toughness, physicality, athleticism, and a never-say-die-even-as-we-charge-defenseless-into-a-phalanx-of-tanks-because-fuck-it-WE'RE-AMERICA-DAMMIT! spirit that perfectly meshes with our greater national identity.
Now, since our men aren't, in the grand scheme of things, particularly good at soccer, this means we Americans root for a team of scrappy underdogs fearless in the face of (very often) fairly astronomical odds that nevertheless come up for us every so often. This same general ethos is present in our women's team, only they are the ones in the tanks bellowing "AMERICA! FUCK YEAH!" as they steamroll a quivering army of women with sticks and rocks. (In that way, they're actually the more emblematically American team.) The USWNT is also usually unbelievably athletic, great at the physical aspects of the game like set pieces, and will fight and fight and fight until the result is secured. It's funny how these similarities are reflected in the men's and women's differing circumstances.
The men's and women's soccer teams of the Netherlands are also sort of funhouse mirror versions of one another. The men's team is historically one of the world's best in terms of results and playing style. While only winning one major tournament (the Euros in 1988), they are perennial contenders despite their relatively tiny population. Not only do they always compete, they have long been revered for their open, expressive, free-flowing attacking play.
The women's team, by contrast, has been crap. When the Lionesses take the pitch in Edmonton on Saturday, it will be the first time those famous orange jerseys will have graced a World Cup match. That's right, this is the Netherlands' first World Cup qualification. Things haven't gone much better in European play; they've only qualified for the Euro finals twice in all 11 times that competition has been held.
G/O Media may get a commission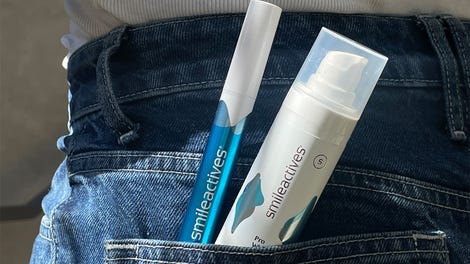 58% off
Whitening Powerhouse Pen & Gel Duo
For whatever reason, women's soccer has not been much of an emphasis over there, so they haven't been very good. Until now, that is. These women—a good number of whom were present at those two Euro finals in 2009 and 2013—are young, talented, and unmistakably Dutch, as you'll soon see.
Roster
Goalkeepers: Loes Geurts (Kopparbergs/Göteborg), Sari van Veenendaal (FC Twente), Angela Christ (PSV Eindhoven).
Defenders: Stefanie van der Gragt (Telstar), Mandy van den Berg (LSK Kvinner), Petra Hogewoning (Ajax), Dyanne Bito (Telstar), Dominique Janssen (Essen), Maran van Erp (PSV Eindhoven).
Midfielders: Desiree van Lunteren (Ajax), Sherida Spitse (LSK Kvinner), Daniëlle van de Donk (PSV Eindhoven), Lieke Martens (Kopparbergs/Göteborg), Anouk Hoogendijk (Ajax), Merel van Dongen (Ajax), Tessel Middag (Ajax), Jill Roord (FC Twente), Vanity Lewerissa (Standard Liège).
Forwards: Anouk Dekker (FC Twente), Manon Melis (Kopparbergs/Göteborg), Vivianne Miedema (Bayern Munich), Kirsten van de Ven (Rosengard), Shanice van de Sanden (FC Twente).
Nicknames
Oranje (Orange), Leeuwinnen (Lionesses)
FIFA World Ranking
12th
Manager
Roger Reijners
How They Play
Rinus Michels, the Godfather of the Netherlands' famous Total Football, would immediately recognize his principles in this Dutch team. These players are not imposing physical specimens, they do not overpower opponents with their physicality, and they do not adhere to rigid positional strictures while looking to remain responsible defensively and hopefully steal something on the counter. They go out to play.
This is probably in part a reflection of just how young the team is. Fourteen of the 23 in the squad have yet to reach their 25th birthdays, and watching them, you can tell many of them have yet to grow into their bodies. What they lack up in strength and speed, they make up for in technical ability and interplay. The flip side of this, and why they still aren't a great team, is that their defending is at times atrocious. Just watch that 7-0 drubbing of Thailand above, and you'll see just how many 1-on-1s with their own keeper they gave up.
Still, the Lionesses—though by no means shoo-ins to make it out of a very competitive group behind favorites Canada—are a good bet to score a couple of the best goals you'll see this tournament thanks to their love of passing, moving, skating past defenders, and mostly, because of their teen phenom, Vivianne Miedema.
Miedema will celebrate a birthday next month, and even if she doesn't score once for her country in Canada, she'll still have as many national team goals (19) as years. She has a lot of catching up to do if she hopes to ever catch up in age to the number of club goals (85, scored in just 86 games!) she's already scored in her young career.
After dominating the Netherlands' league for three seasons, including a Messi-esque 2012-13 campaign where she scored 41 goals in 26 matches, she was snapped up by Bayern Munich before this past season. She's already one of the best in the world. It should be fun seeing whether she can make that ability felt on the world's biggest stage.
Fixtures
June 6, 9 p.m.: Netherlands vs. New Zealand at Commonwealth Stadium
June 11, 6 p.m.: Netherlands vs. China at Commonwealth Stadium
June 15, 7:30 p.m.: Netherlands vs. Canada at Olympic Stadium
All times Eastern