Ultra-troll Paul Finebaum, who has mastered the art of spinning his own opinion as the most important of the day on any subject, turned his cannons on Johnny Manziel on Wednesday. Well, Manziel and his phone.
"Very normal for a 20-year old," Finebaum says, sarcasm dripping, about Manziel palling around with Drake in Toronto before jetting to Cabo. "I don't know where to begin. Will he go over and await the royal birth at Buckingham Palace?"
"I'm bothered by him on many fronts," Finebaum says, before reiterating his only reason for being bothered by Manziel: "He keeps telling us he's 20."
"His phone died," Finebaum says, air quotes implicit, referring to Manziel's excuse for showing up late to a Manning Passing Academy session last Saturday before leaving the camp, the air quotes implicit. "That's not what the NFL's looking for."
G/O Media may get a commission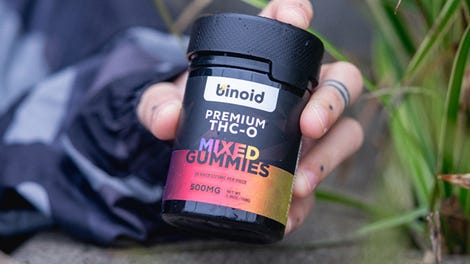 25% Off + Free Shipping
Binoid THC-O Gummies
"I like Johnny Manziel, but his stories are just inconsistent. And maybe I'm wrong—I'm viewing this like a prosecutor dissecting a witness," Finebaum says, responding to Joe Tessitore's charge that he's "player-hating" on Manziel. "But he's a football player. I want to embrace that. But he's making that hard to do today."
And then, for the next two minutes of the SportsCenter segment, Finebaum says little but an interjected "So far," as people who have more interesting and substantive perspectives than Finebaum get to talk. The Mouth of the South shuts up, for once, and one of the idiot winds that threatens to sweep a special football player away dies down.
[ESPN]