FIU is one of the most poorly run athletic departments in the country, so any of their fuckbaggery should come as no surprise. In this latest installment, the school is refusing to credential Miami Herald veteran David J. Neal for the football team's home opener.
The best sports movies according to Toheeb Jimoh
Here are some more details, via the Herald:
FIU athletics officials denied the Herald's request for a game pass for reporter David J. Neal, who has been covering FIU sports since June, 2011. Passes were granted for a Herald columnist and photographer.

No explanation was given by FIU, but Neal's access to FIU coaches and athletes had been dwindling for months, to the point where he was no longer permitted to attend football practice or conduct interviews. Last week, when Neal attempted to write a story on the FIU women's soccer team, he was told no one was allowed to talk to him.
Rightfully, the paper is declining to send anyone to cover the game. Requests for explanation by editors Rich Hirsch and Jorge Rojas in the weeks leading up the game were ignored by FIU's athletic director, Pete Garcia.
Full disclosure: I worked with all of these people last summer as an intern. Rojas is probably one of the most well-liked people in Miami, and Neal is an absolute professional. I myself covered FIU football practices last summer, and was often the only person there. Not even the student media bothered to show up. Neal was gracious enough to call and tell us his side of the story:
Usually, we get our press passes for the whole season up front. Once that didn't happen this year, I knew something was up. Going into this last week, I really thought they wouldn't be that stupid. Things have happened over the course of the past several months. In the spring, for baseball games, I was sitting outside at a table instead of a press box. Before that there was the 'Stony Brook silence,' they claimed that none of the baseball coaches or players would be able speak the media after the fifth game of the season because they wanted to 'focus on the game.' I know there are things that i've written that have pissed them off. I made a video with a montage of FIU's attendance from football games last season, and it showed Pete Garcia got a $19,000 attendance bonus. I wrote a story on Dennis Wiseman [a registered sex offender who threw out a first pitch at an FIU game.] I don't know where it goes from here. I believe there might be a meeting in the future, but as of right now, they've taken their stance, and thankfully my superiors have taken theirs. I'm very happy and appreciative they've done that. I have not spoken to a football player on the record since Conference USA media days on July 23rd.
G/O Media may get a commission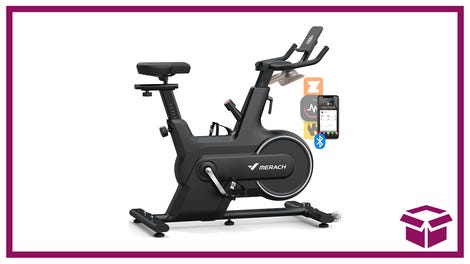 14% off + Coupon
Merach Indoor Cycling Bike
We'd like to say things can't get much worse for FIU, but the football team went 1-11 last season, is completely irrelevant in South Florida, and they just lost the only exposure they had with the world.
Photo credit: AP