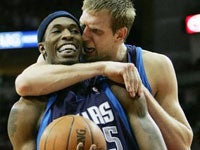 It's hard to believe, but the NBA season is just around the corner. Let us celebrate with five tiny tidbits on each team. Today we continue with the Southwest Division, so do us a favor and send us your tips at tips@deadspin.com.
• 1. It's Good To Be Mark Cuban. Mark Cuban actually lowered ticket prices this year, even though his team went to the NBA finals. Dallas is known as a fair-weather kind of town, but last season the Mavs were selling out the majority of their games and they probably will this season too. At the AAC you can get an upper level seat at midcourt for as low as $19, which is reasonable. Since Cuban bought the team, the Mavs have actually doubled the amount of winning seasons in franchise history (12 total, six of them since 2000). — (Thanks to Dennis Koniecki).
• 2. Fear And Loathing In Fort Worth ... In addition to wearing his headband on top of his head "for a different look," Josh Howard considers the film Fear and Loathing in Las Vegas "the funniest movie in the world" and owns the movie poster, DVD and VHS versions. He believes it sends a good message to the kids about staying away from drugs.
• 3. New Math. The Mavericks are paying Michael Finley more than $17 million to play for the Spurs this year, and they are paying Tariq Abdul-Wahad close to $8 million. That means that Finley is getting more money from the Mavs than Dirk Nowitzki, and Abdul-Wahad is getting more than Jason Terry, who just signed a new contract. Finley will also get $18 million from the Mavs next season. All of this counts against the cap, by the way. — (Thanks to Dennis Koniecki).
• 4. Gone, But Not Forgotten. Pavel Podkolzin, a 7-foot-5 center who was released by the Mavericks last month, formerly played for the Mavs' affiliate in the development league, the Fort Worth Flyers. In one game he went to argue with the referee and had to bend over at the waist to get in the guy's face. Then he was promptly ejected and let loose a string of profanities as he walked off the court in front of about 800 children. — (Thanks to Dennis Koniecki).
• 5. How Can You Not Root For This Guy? D.J. Mbenga grew up in The Congo, where his father, who worked for the government, died under mysterious circumstances. D.J. himself was imprisoned in a case of mistaken identity and eventually escaped to Belgium, where he took up basketball.
Monday: The Houston Rockets