It's hard to believe, but the NBA season is just around the corner. Let us celebrate with five tiny tidbits on each team. Today we continue with the Southwest Division, so do us a favor and send us your tips at tips@deadspin.com.
• 1. Are You Ready To Mutoooom-boooo?. Possibly the greatest contribution to the game by Dikembe Mutombo may be the phrase, "Who wants to sex Mutombo?" To quote The Mighty MJD, "Dikembe walked into a Georgetown bar one night [in the early '90s], the entire place stopped to look at him, and in response, Mutombo just yelled out, "WHO WANTS TO SEX MUTOMBO?!" There used to be a site dedicated to this that would post pics of Mutombo "sexing" different NBA players (you know, trying to get around Tim Duncan for a rebound or something), but, sadly, it has been taken down. The internets are worse off without it.
• 2. It's Pat. The Rockets entered the NBA in 1967 as an expansion team based in San Diego, selecting Pat Riley with their first draft pick. They then went on to produce a then-NBA record 67-loss season.
• 3. Tall Tales. In former Newsweek editor and author Brook Larmer's book Operation Yao Ming, he claims that as a child Yao was forced to play basketball by and for the Chinese government. Larmer also alleges that Yao's father, 6-foot-10 Yao Zhiyuan, and mother, 6-2 Fang Fengdi, both national team basketball players, were, on retirement, "encouraged" to wed, with the aim of producing an extremely tall son.
G/O Media may get a commission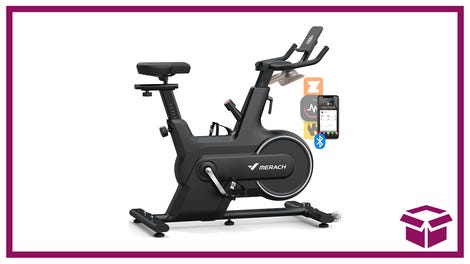 14% off + Coupon
Merach Indoor Cycling Bike
• 4. The Sura With The Fringe On The Top. As a member of the Cleveland Cavaliers, Bob Sura was frequently mocked by Cleveland radio talk show host Mike Trivisonno for being the only male that he knew who had bangs and who combed them straight down, often with gel.
• 5. Music Is My Life. Bonzi Wells was mentioned in rapper Ghostface Killah's song, "Biscuits"; with the verse, "I'm from a place where chunkheads and zombies dwell/And niggaz keep they heat blazin' like Bonzi Wells."
Tomorrow: The Memphis Grizzlies.