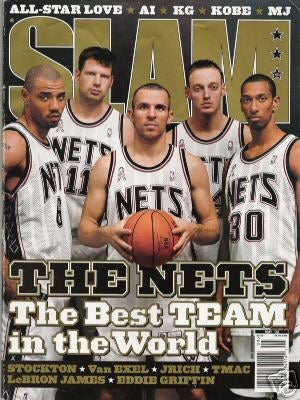 It's hard to believe, but the NBA season is just around the corner. So come with us now as we present five tiny tidbits on each team, just to get you in the mood. Today we continue with the Atlantic Division, so do us a favor and send your tips totips@deadspin.com.
• 1. Keep On Truckin' Baby. Trucking magnate Arthur Brown established the franchise was established in 1967 as part of the American Basketball Association, planning to name them the New York Freighters, based on Manhattan's east side. But pressure from the New York Knicks forced their arena, the Armory, to back out three months before opening day. The team was forced to move to Teaneck, New Jersey, and changed its name to the New Jersey Americans.
• 2. Boo-yah! Blame Vince Carter's 2001 playoff exit on Stuart Scott. On the morning of Game 7 of the 2001 Eastern Conference playoffs (Raptors vs Philadelphia 76ers), Carter attended his University of North Carolina graduation, in which Stuart Scott gave a graduation speech. That night, Carter was 6-of-18 from the floor and missed a potential game-winning shot with two seconds remaining.
• 3. Hey Moe! Hey Larry! Nenad Krstic — nickname Curly — was voted third most eligible bachelor by Serbia's version of People magazine.
• 4. Computer Glitch. While a senior at UConn, Marcus Williams was charged with trying to sell four stolen laptop computers taken from dormitory rooms on the university campus. He was suspended for the fall semester and did not play his first game of the season until January 2006.
• 5. Hassan Chop! As a senior at Arizona, Hassan Adams recorded a double double; being charged with both disorderly conduct and a DUI on two seperate occasions. In the latter, he was found to be driving with blood alcohol level of .124 (the Arizona legal limit is .08). He's still pretty good, though.