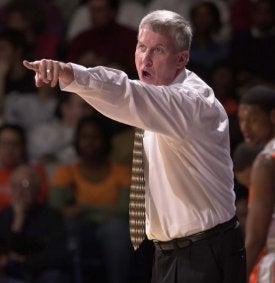 When you're a member of the Florida A&M basketball program, women want you. Sometimes, you have to convince them of it first, but they do want you. And that's the message that Mike Gillespie Sr. was trying to teach his players yesterday. And the day before. And since 2005, really.
Gillespie Sr., head basketball coach of the Florida A&M Rattlers, has successfully rattled some poor woman. Having been investigated for stalking since 2005, he was arrested yesterday on stalking charges after a woman said she was stalked at work Friday morning.
Gillespie is married, but the AP article doesn't go into detail about the motives for his stalking. I can't be sure if this is a woman to whom he wanted to show his rattler, or if he was trying to interest her in some of the fabulous Florida A&M season ticket packages. Whatever he was doing, he has to do now while subject to GPS monitoring.
Florida A&M men's basketball coach released after arrest on stalking charge [Ocala.com]