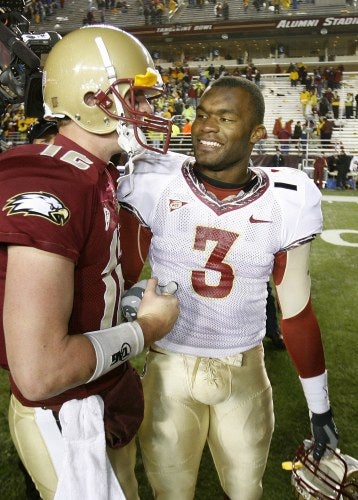 It's nice to report news when an athlete does something admirable. Florida State safety Myron Rolle interviewed with the Rhodes Scholarship committee in Birmingham, Alabama before flying to meet his team in Maryland to help them beat the Terps. And he won a scholarship in the process.
"It was a very exciting day, and I'm thrilled to have the opportunity to study at Oxford," Rolle said at halftime of the Seminoles' 37-3 victory. "I will remember today for a lifetime." He finished the interview in Birmingham around 6 p.m. EST. After learning of the honor, he boarded a private plane to catch up with his teammates for the game that started around 7:45. Rolle had started 32 consecutive games before Saturday. He arrived at the stadium at 8:34, dressed and emerged from the locker room with 6 minutes left in the first half. He waved at the fans in the FSU section of the crowd, then warmed up on the sideline before entering the game with 1:30 left in the second quarter.
Rolle is one of 32 US Rhodes scholar recipients this year and the first prominent athlete to receive one in almost 25 years.