If you want to start a really confusing conversation with someone, ask them if they have ever heard of The Returned.
About two weeks ago, I saw a trailer for a movie directed by Manuel Carballo called The Returned, which is about a post-zombie apocalypse world in which a cure for the zombie virus has been developed, but shit hits the fan when the world's supply of the cure runs low, and people start turning back into zombies. It sounded like a cool movie, so I tried to find it on Netflix.
I found The Returned on Netflix, but The Returned I found was a French TV series (translated from Les Revenants) about a small town in France where people from the town who have been dead for many years suddenly reappear, unaged and unharmed. The premise sounded somewhat familiar to the movie I was looking for, so I watched it. It was pretty good.
While watching The Returned, it dawned on me that the new ABC show, Resurrection, followed the exact same premise. "Aha!" I thought. "Resurrection must be the English-language remake of The Returned. How cool am I for watching the original version first?"
Resurrection is in fact based on The Returned, if by The Returned, you're referring to a 2013 novel by Jason Mott that is about, you guessed it, people who were once dead suddenly returning to existence. The Returned by Jason Mott has nothing to do with the French TV series known as The Returned. But you know what is related to the French TV series known as The Returned? A 2004 movie directed by Robin Campillo called Les Revenants. This film, for some reason, is translated into English as They Came Back. It is about 70 million dead people around the world suddenly coming back to life and struggling to reintegrate into society.
G/O Media may get a commission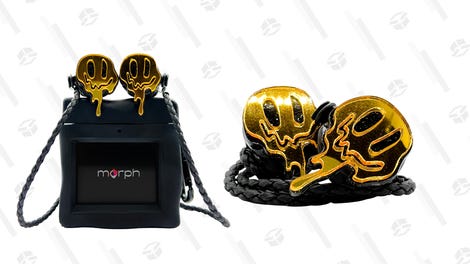 morph audio
Morph Earphones
Last year, A&E announced that it was making an English-language adaptation of The Returned, the French TV show that was adapted from the 2004 French movie by the same name. This show will most likely be called The Returned. Meanwhile, season two of the French-language The Returned will begin airing later this year on Sundance Channel.
As you can see, there are currently far too many entries in popular culture known as or derived from The Returned. This level of oversaturation can make it difficult for everyday people like you and me to know which The Returned we are talking about when we engage in conversation with someone about The Returned. To help alleviate this problem, I have created this helpful flowchart:
Also, has anyone checked out The Returned? Is it any good?
Chart by Sam Woolley