Mayweather is going to get paid $5 million for his fight Saturday night, but he's a little unhappy with his treatment by the media and public. Dropping the N-bomb four times in four sentences unhappy.
If you're rich, you're a rich [n-word]," he said. "If you're poor, you're a poor [n-word]. If you're smart, you're a smart [n-word]. At the end of the day, they still look at me as a [n-word]."
That was the, um, highlight of Mayweather's press conference in advance of his bout with Juan Manuel Marquez in Vegas. Seems he's not too pleased with coverage of investigations into his role in a recent shooting, as well as multiple run-ins with the IRS. He says none of this would be an issue if he were white, and he uses Oscar De La Hoya as a totally illogical example.
This country needs to be more positive," he said. "We're already at war. We're in a recession, we're at war and we continue to be negative. The fans in the UK showed me more love than in my own country. That's crazy ... Sometimes I'll sit back, I'll be in my theater sometimes, and I'll think: 'Imagine if I was the same fighter that I am, and I was the same person that I am, and I was from another country. Can you just imagine how big I'd be?'

"But I wouldn't change my life for nothing in the world. There's nothing like being young, black and rich. But there are certain things you think about. If Floyd Mayweather was white, I'd be the biggest athlete in America. The biggest, the biggest. I know that for a fact."
That's funny, because the biggest athletes in America are Tiger Woods and LeBron James. And the last time a boxer was the biggest name in sports, it was Mike Tyson.
Not content offending the majority of potential PPV buyers, he turned to the team broadcasting the fight.
Larry Merchant don't know nothing about boxing," Mayweather said. "What's that other guy's name [at HBO]? [Emanuel Steward]. He's an Uncle Tom.
G/O Media may get a commission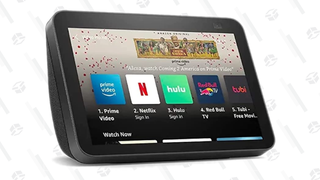 Silly Floyd, don't you know America moved past racism completely and forever on election day?
Mayweather Lashes Out At Perception [ESPN.com]