When Matt Read wasn't named a Calder Trophy finalist, it was understandable, but Philly fans were irked.
When Claude Giroux, coach-described "best player in the world," wasn't named a Hart Trophy finalist, Philly fans were furious. On Monday, the humiliating snubs were completed, when Peter Laviolette was not among the three finalists for the Jack Adams Award, presented annually to the best coach. The apoplexy came in the form of a conspiracy theory, from a local columnist who really should know better but proved beyond a doubt that he does not.
Comcast's regional sports sites (CSNChicago, CSNNewEngland, etc.) are a newish venture into online-only, but still professional sports coverage. We like them because they employ a lot of talented people in one- and two-paper towns. Fans should like them because they provide an alternative to the ESPN family of city-centric sites. With the injection of NBC's cash (and cachet), they're indispensable for original writing and reporting devoted solely to your local teams. So it was surprising to read John Boruk's screed from yesterday on CSNPhilly.com, in which Peter Laviolette's snub was the last piece of evidence needed to call out a media-wide conspiracy against the Flyers.
After Peter Laviolette failed to make the list of finalists for the Jack Adams Award Monday, and now that the Flyers have been completely shut out of the NHL's postseason awards, perhaps I should investigate into the actual existence into the N.H.W.A.P.F — the National Hockey Writers Against the Philadelphia Flyers — which is simply an extension of the P.H.W.A. (Professional Hockey Writers Association).

Just how many members comprise the N.H.W.A.P.F., I'm not quite sure. However, this group of secretive scribes has not only excluded Laviolette as an Adams finalist in the past few weeks, but also Claude Giroux as a finalist for the Hart Trophy as MVP and Matt Read as one three finalists for the Calder Trophy. It's also not out of the realm that this little-known group also paid off a number of NHL general managers who dissed Paul Holmgren as a G.M. of the Year candidate.
It goes on like this. There's no ventured justification for the voters' dislike of the Flyers franchise. (It's hooey, of course. Media folks have been so beaten down by the job that they're no longer "fans" of any team. You want to keep them happy? Make sure the heating lamps in the press box dining room are working.) Boruk's column rightly took heat, and he reacted the way any well-paid professional from a legitimate news outlet would: he took the article down. (He also later insisted that it was "tongue and cheek.")
At some point, it was put back up, in all its paranoid and inaccurate glory. The world can see that John Boruk thinks the PWHA has it out for the Flyers because Lavy didn't get a Jack Adams nod, and also that John Boruk has no idea that the PWHA doesn't actually do the voting on the Jack Adams. That'd be the NHL Broadcasters' Association, a salient fact that destroys the whole underpinnings of the pattern Boruk is trying to highlight.
G/O Media may get a commission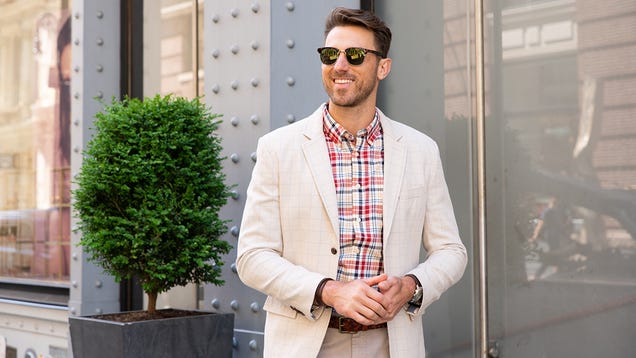 Blazer Cleanup Sale
The hyperlocalization of sports media is almost always a good thing. More coverage specifically tailored to your sphere of interest. But this lovely mess shows one of the possible drawbacks: in trying to give readers what they want, the pro can go native. A conspiracy theory, a glaring factual error, and an attempt to just delete the whole thing once it gets criticized—that's the sort of shit that belongs on message boards and poorly formatted Blogspots.
Are hockey scribes conspiring against Flyers? [CSNPhilly]