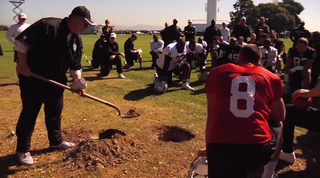 Spurred by new Raiders interim coach Tony Sparano burying a football (and ideally the 0-4 start), Drew recalled some of the worst and saddest motivational tactics coaches have turned to to inspire their uninspired charges. Today in the Los Angeles Times, Sam Farmer does the same thing, rounding up some of the weirder gimmicks used by coaches past:
Tony Boselli...recalls when he was at USC how then-coach Larry Smith gave tennis balls to his players, reminding them to bounce back after a loss.

Hall of Fame coach Bill Parcells used those tactics from time to time. When his Patriots were playing the Jets, he dangled toy airplanes in their lockers. When he was coaching in Dallas, he reminded his players not to buy into the hype being said about them — or, in his words, "eat the cheese" — so he put a giant blue mousetrap in the middle of the Cowboys locker room, and baited it with a piece of cheese.

Once, when he was coaching the Jets, Parcells left an empty gas can in the locker of linebacker Brian Cox, along with a question: "Do you have any left in the tank?"

Last season, before his Colts played 0-4 Jacksonville, Chuck Pagano placed a mousetrap in each player's locker. The message: Don't fall prey to a "trap" game. The Colts didn't, posting a 37-3 victory.
Do any of these actually work? Could they possibly? Boselli believes so, telling Farmer that "even if it moves the needle one percent, it's worth it."
Coaches will forever be burying footballs, because it worked once: when Bill Belichick did it four games into that magical 2001 Patriots season. (I'm sure it was the burial and not Tom Brady, who first started in Week 3, getting the hang of things.)
Column Raiders' Sparano stages ball burial in latest in long line of ploys [L.A. Times]