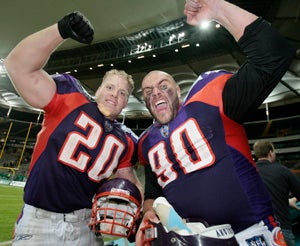 12:00, NFL Network. NFL Europa. Frankfurt Galaxy @ Berlin Thunder.
12:00, USA. The Starter Wife.
12:00, ESPN. College Softball. DePaul vs. Arizona State.
1:00, NBC. Tennis. French Open. Men's and Women's Third Rounds.
2:00, ESPN. College Softball. Texas A&M vs. Baylor.
2:30, Fox Soccer. Euro 2008 Qualifer. Latvia vs. Spain.
3:00, CBS. PGA Golf. Memorial Tournament, Third Round.
3:30, ABC. WNBA Basketball. Phoenix Mercury @ Connecticut Sun.
3:30, FOX. MLB. New York Yankees @ Boston Red Sox or St. Louis Cardinals @ Houston Astros.
4:00, NBC. LPGA Golf. Ginn Tribute, Third Round.