Yesterday, Kamerin Moore, a former junior elite gymnast, posted a powerful, wrenching video testimony detailing the sexual abuse she endured at the hands of former national team physician Dr. Larry Nassar, who is currently in jail awaiting trial on sexual assault charges as well as federal child pornography charges. He has pleaded not guilty on all counts.
Moore, who did not respond to requests for comment, trained alongside 2012 Olympic gold medalist Jordyn Wieber for part of her career at Twistars under the tutelage of John Geddert, who has been listed as a defendant in a Larry Nassar-related lawsuit. Moore was frequently injured as a gymnast, which meant that she ended up spending a lot of time with Nassar, who volunteered at Twistars. According to the video, she saw him as a patient between the ages of 11 and 18, seeing him, on average, two or three times a month.
In the video, Moore goes into detail about the so-called "treatment" she was subjected to when she was 13 years old and alone with Nassar.
"This treatment is where he would rub out your back or your hamstrings with one arm or one hand and he would use his other hand to do pressure points or massage on, in, around your genital area. Yes, I say 'in' because, at least in my own experience, it was invasive…He would actually put his fingers inside of you. To be clear about this, it was skin-on-skin contact. He would go under your clothing with no gloves on."
Though it made her very uncomfortable, Moore didn't question what Nassar was doing to her. "As a little girl, I wasn't ever questioning a well-respected doctor if their techniques were legitimate. I just trusted him that he was doing the right thing," she explains.
Moore recounts one particularly disturbing incident at Nassar's MSU office. The doctor asked her if he could videotape himself performing the "treatment" on her. He claimed that he wanted to make a video so he could train other doctors in how to do this particular procedure.
"To be very clear about what he was asking: he was asking as a 40-year-old man or however old he was, to videotape himself touching a 13-year-old girl's naked private parts. And if nothing else, if he was a well-respected doctor still and he was a good person and they hadn't found thousands of images and videos of child pornography on his devices, this would still be wrong."
G/O Media may get a commission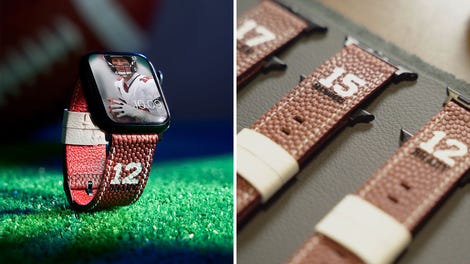 Official NFL PRODUCTS
Official NFL Apple Watch Bands
Moore says that even though she was just 13, she stood up to Nassar and refused. "I said no. I stood up for myself and said absolutely not."
She says that this was the last time she got that treatment done, and estimates that Nassar had probably performed that "treatment" on her eight to 10 times. The reason the abuse ceased, she says, was that she pretended to feel better.
"I lied to my coaches. I lied to him. I lied to my mom. I lied to everyone and said that my back and hamstrings were feeling better and that I wasn't in pain anymore so that I didn't have to have these treatments done."
Moore explains that she didn't tell anyone what had happened because she was so young and was confused. "I was a little girl. I was not equipped to handle that situation at all." Also, some of her teammates had experienced the same thing. "That kind of gave me peace of mind that even if it was uncomfortable, maybe it was legitimate."
As with many women who have accused Nassar of abuse, Moore, now 21, says she only came to trust her own experiences over the last six months, as news reports made broader patterns clear.
"Now that I'm 21 and I can actually put the pieces together, it all makes perfect sense," she says.
Moore speaks about the training course that she took in order to become a gymnastics coach. A part of that course entailed learning how to spot the signs of a child predator. She realized that Nassar checked every box on the predator checklist.
"When I did that course, I thought back to Larry and all of the things he used to do. He used to volunteer his time with kids, which made him look like an amazing person but he was really volunteering his time so he could abuse children. He would tell me secrets, very, very personal secrets about himself and his family and he would even cry to me about things, which is just an extremely inappropriate thing to do to a 13-year-old. But he would do that so he could get close to you and make you feel like you guys could share secrets with each other and that you could trust him. He would talk crap about your coaches to you so you would feel like he was your buddy, he was your friend, that you could talk to him about anything."
Moore says that coming to terms over the last six months with what Nassar did to her has been incredibly difficult. After she found out what really happened to her, she felt disgusting. "I wanted to take 10 showers and just scrub my skin off. I can't explain why I felt that way. I just felt dirty," she explains.
"This affected me really horribly. Honestly, the past six months have kind of sucked. I started isolating myself from people. I have a really, really, really hard time trusting anyone because, like I said, someone I trusted more than almost anyone in the world ended up being someone who hurt me so immensely."
When Moore looks back on herself at that time—going to gymnastics, doing her schoolwork, hanging out with her friends and family—she wishes she could somehow communicate with her younger self. "[I] want scream into the past, 'Something's wrong! Please tell someone how you're feeling because something is so wrong!'"