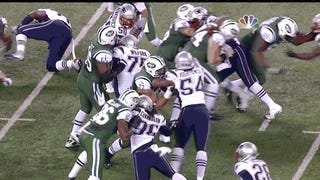 Now that we've all seen Mark Sanchez's bare ass, it's probably time to wonder what took so long. According to a former Jet, Sanchez has a habit of removing his clothes or otherwise getting up to foolishness, but he's always had someone there to save him from himself.
Erik Ainge was a Jets QB for three years, the latter two coinciding with Sanchez's first years in New York, and Ainge knows a little something about needing help. He tells Metro about a 2009 party where Sanchez decided to strip off all his clothes and go streaking. One attendee whipped out her cell phone and filmed the whole thing. Ainge immediately smashed the phone, and Sanchez had to pay for the damage.
"There were numerous times when things would happen, when things would go down, articles of clothing would be removed," Ainge told Metro. "Mark is goofy. He played truth or dare. He was kind of awkward around girls, so he needed other people around him to help him out. I was good at that — there were other guys who were good with that. So we'd help him out and talk him through his awkwardness. It happened to him with the 17-year old who said she wasn't 17. Now the butt video and there's been several other issues just like that, but he's always had wingmen."
Ainge paints a picture of Sanchez as an immature and naive person, who needs to stop being so trusting that other people have his best interests in mind.
"He's dumb about it. He's stupid while being stupid. You have to be smart while being stupid, and he's dumb while being dumb."
That's undoubtedly good advice which we hope Sanchez never takes.