Brendan Gibbons, the former starting kicker for the University of Michigan football team, has been "permanently separated" from the university, according to a letter sent to Gibbons by the school's office of student conflict resolution. The contents of the letter were reviewed and reported by the Michigan Daily.
Gibbons is currently a graduate student at Michigan, and his expulsion is related to an alleged 2009 incident that saw Gibbons accused of raping a woman at a frat party. At the time, the accuser spoke to police and described the alleged rape, but eventually decided not to press charges. In August of 2013, Washtenaw Watchdogs obtained and made public a copy of the police report (which can be read here). The report describes the alleged incident:
The accuser also told police that Gibbons's then-roommate, All-American tackle Taylor Lewan, threatened to rape her if she didn't drop the charges against Gibbons.
According to other documents obtained by the Michigan Daily, Gibbons was expelled because of a "preponderance of evidence" that he committed some sort of sexual assault while at the university:
An additional OSCR document signed by [associate director Stacy] Vander Velde and dated Nov. 20, 2013, stated that it was determined by the University that a preponderance of evidence supports "a finding that the Respondent engaged in unwanted or unwelcome conduct of a sexual nature, committed without valid consent, and that conduct was so severe as to create a hostile, offensive, or abusive environment." The Daily has been told that the respondent referred to in this letter is Gibbons. Complainants in this case are not identified in the documents reviewed by the Daily.
G/O Media may get a commission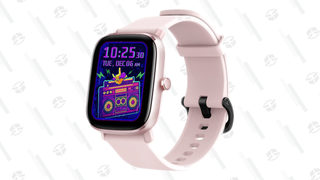 20% Off
Amazfit GTS 2 Mini Smart Watch
Get fit
Has built-in Alexa so you can ask questions and carry your smart assistant around with you; it has a battery that can last up to 14 days, has over 70 different sport modes, is 5ATM waterproof, and tracks stats like your heart rate, calories burned, sleep, and more.
The university's decision to expel Gibbons does not mean that he has been found guilty of rape or that he will even be charged. The OSCR's investigation was not a criminal one, and the university does not need prove beyond a reasonable doubt that Gibbons sexually assaulted someone in order to expel him. A student can be expelled for alleged misconduct as long as there is a "preponderance of evidence" against the student.
The seemingly strange thing about the university's decision is the timing of it. One can't help but wonder why now, five years after the alleged rape took place, Michigan has decided to take action against Gibbons. The word "cover-up" is getting thrown around a lot, and the fact that Gibbons is being suspended just after his football eligibility expired certainly raises an eyebrow, but as the Daily explains, the timing of the university's decision may have more to do with newly instituted policies:
Revised University policies regarding sexual misconduct may have forced officials to internally review or re-review the allegations. The updated policies, which have been in effect since 2011, state that any allegation of sexual misconduct received by the University must be investigated.
It's unclear why there was a three-year lag time between the new policies being instituted and action being taken, but the case has by now attracted enough attention around Ann Arbor that if something sketchy was going on here, it will almost certainly come out.
h/t Matt