In September of 2007, Vicky Triponey resigned as Penn State's vice president for student affairs, a job that included overseeing the school's Office of Judicial Affairs. In an interview two weeks later, she attributed her departure to what the Centre County Daily Times described as "philosophical differences with other leadership in student affairs and at the university in general," but she declined to elaborate. Her resignation coincided with the imposition of new rules that largely removed her office's ability to suspend athletes from playing—rules produced by an advisory committee with input from Joe Paterno. Paterno and Triponey had a relationship that was "strained at best," the paper reported, citing multiple university sources.
Today's Wall Street Journal reports on the events behind Triponey's resignation: According to the Journal, not only did Paterno lobby for the power to make disciplinary decisions about football players himself, but he threatened then-Penn State president Graham Spanier that he would stop fundraising for the school if he didn't fire Triponey. Paterno's position, the paper reports, was that he did not want Penn State's code of conduct to be applied to athletes. And he encouraged football players not to cooperate with PSU Judicial Affairs' disciplinary proceedings in the case of one major brawl because, in the words of the Journal, "they would have to testify against each other, making it hard to play football together."
The Journal story makes no connection to what Paterno did or did not know with regard to the child sex abuse charges against his former assistant, Jerry Sandusky, the fallout from which has resulted in the firing of both Paterno and Spanier, plus the indictment of two PSU administrators in connection with an alleged cover-up. But the report does indicate how intransigent Paterno was when it came to what he felt was his right to mete out discipline—and whether the public had any right to know about any of it. What it does is peel back the curtain on a coach who for years sold the world on what a clean program he ran, but whose desire for complete control of his domain led him to believe (apparently correctly) that the university's rules didn't apply to him.
In the spring of 2005, the Journal reports, after lineman E.Z. Smith and another player were suspended for shooting arrows through a wall at an apartment off campus, athletic director Tim Curley—one of the two PSU administrators charged with perjury and failure to report abuse as a result of the Sandusky case—sent Triponey an email saying Paterno was "frustrated" over the punishment Smith had received.
G/O Media may get a commission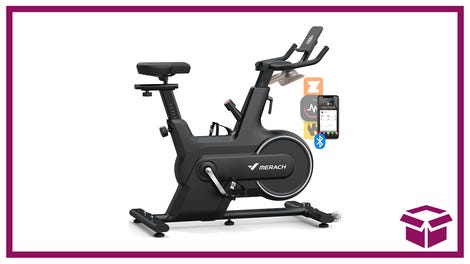 14% off + Coupon
Merach Indoor Cycling Bike
That August, Triponey met with Paterno, Curley and two other administrators at the suggestion of Spanier, at which she was "loudly criticized" by Paterno, in the Journal's words, according to the paper's sources. The next day, Triponey sent an email to Spanier, Curley and one of the other administrators who was at the meeting (emphasis ours):
In the email, which was reviewed by The Wall Street Journal, she said that football players were getting in trouble at a "disproportionate rate" from other students, often for serious acts. She said her staff had tried to work with the athletic department, sometimes sharing information, but that whenever her department initiated an investigation into a football player, the phones lit up. "The calls and pleas from coaches, Board members, and others when we are considering a case are, indeed, putting us in a position that does treat football players differently and with greater privilege."

Dr. Triponey also wrote that Mr. Paterno believed that the school's code of conduct should not apply to any incidents that take place off campus—that those should be handled by police—and they shouldn't be allowed to affect anyone's status as a student.

"Coach Paterno would rather we NOT inform the public when a football player is found responsible for committing a serious violation of the law and/or our student code," she wrote, "despite any moral or legal obligation to do so."

Dr. Triponey ended her note by asking Mr. Curley and Mr. Spanier if these were accurate impressions of Mr. Paterno's views-and whether they shared them.

Mr. Curley's response, also reviewed by the Journal, was sent three days later and was copied to Mr. Spanier. "I think your summary is accurate," it said.
It was later in 2005 that linebacker Dan Connor was suspended for making obscene phone calls to Joe Sarra, a retired assistant coach. Paterno had Connor suit up for practice anyway. Adds the Journal:
Dr. Triponey informed the player that if he suited up for practice, he would be in violation of his suspension and could face expulsion. Mr. Connor says he recalled being suspended only for games, not practice.

The incident prompted Mr. Spanier to visit Dr. Triponey at her home. Dr. Triponey confirms he told her that Mr. Paterno had given him an ultimatum: Fire her, or Mr. Paterno would stop fund-raising for the school. She says Mr. Spanier told her that if forced to choose, he would choose her over the coach—but that he did not want to have to make that choice.

Later, Mr. Connor's suspension was reduced to 10 days, allowing him to return to football.
In 2007, as many as two dozen Penn State football players broke into an off-campus apartment, starting a fight that resulted in criminal charges for six of them. Penn State's Judicial Affairs office's investigation involved numerous meetings that included Paterno and Spanier.
In a meeting with Messrs. Paterno and Spanier and others, Dr. Triponey complained that the players were stonewalling her and suggested that Mr. Paterno ought to compel them to be truthful, according to one person familiar with the meeting. Mr. Paterno angrily responded that his players couldn't be expected to cooperate with the school's disciplinary process because, in this case, they would have to testify against each other, making it hard to play football together, these people say.

In the end, police dropped many of the charges against the players, and two pleaded guilty to misdemeanors. The school's inquiry led to four players being suspended for a summer semester. They did not miss any games.

Coach Paterno imposed his own punishment: he said the whole team would spend two hours cleaning up the stadium after home games that fall.
Vicky Triponey resigned from Penn State shortly after that.
A Discipline Problem: Paterno Fought Penn State Official Over Punishment of Players [Wall Street Journal]