Of course you know that Molly Shattuck was the oldest cheerleader in NFL history, at age 38 (what, you don't keep stats?). But did you know that she's also a Secret Millionaire? MILF Money!
She's also several kinds of awesome, apparently. Shattuck was featured in Wednesday's episode of Secret Millionaire, and per the format of the show, the mother of five (that's her in the middle in the photo), survived on welfare wages for one week while stealthily scoping out deserving folks to surprise with large checks.
We had to hand over our cell phones and my BlackBerry," said Shattuck, now a Maryland socialite who is married to Mayo Shattuck III, CEO of Constellation Energy in Baltimore. "We also had to give the producers our wallets – no money, no makeup. We found a very modest apartment and were given basically the wage of $110 – like we were at the level of welfare wages."

They had to pay for their food and the apartment with the $110. Their new landlord took more than half the money before he would let them move in. Finances got to the point, Shattuck said, where she fretted whether she could "afford a cup of coffee" in the morning.
Shattuck ended up giving about $190,000 to a woman who ran a food pantry ($100,000) a day care center ($20,000) and a single mom with three boys ($70,000). And finally we have a freakin' feel-good story this week. It's about time.
"The biggest thing is that there are people who have so little yet give so much of themselves and are making such a difference in the area in which they live. There really are angels among us - everywhere," she said. "I met some of the most wonderful human beings, and I would never have had the opportunity if not for this show."
G/O Media may get a commission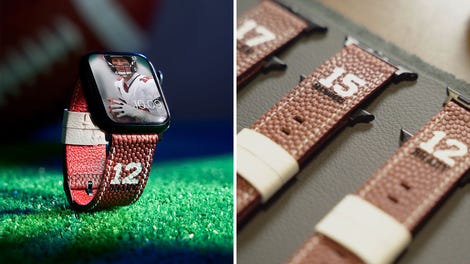 Official NFL PRODUCTS
Official NFL Apple Watch Bands
Molly Shattuck Secret Millionaire [Buzz And Trends]
Former NFL Cheerleader MILF Slums It, Then Gives Away $140 K [Deuce Of Davenport]