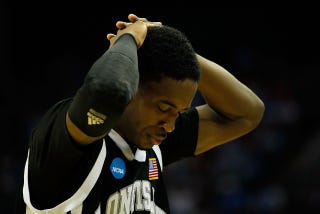 Four Long Island University (Brooklyn) basketball players were arrested yesterday in connection with a Sept. 14 brawl that involved three other men and two women.
Julian Boyd, C.J. Garner, Troy Joseph and Jamal Olasewere were charged with third-degree assault Thursday night. This morning, LIU Brooklyn athletic director John Suarez suspended all four players indefinitely.
More from Scott Gleeson of USA Today:
Four people were taken to Brooklyn Hospital, police reports said. They were not seriously injured. The New York Post initially reported that those assaulted by the basketball players were on the LIU track team, but that was denied by a university spokesperson.
Boyd, Garner and Olasewere were three leading scorers for the Blackbirds last season.
LIU Brooklyn basketball players charged in dorm brawl [USA Today]