Offensive line prospect Jean Delance committed to Oklahoma back in November, and was still all about the Sooners when he visited campus on Saturday—the day before the release of a video showing members of the Sigma Alpha Epsilon fraternity taking part in a racist chant. Delance pulled out of his commitment yesterday.
In his initial statement, Delance, from North Texas, merely cited "personal reasons," and wrote that his it "had nothing to do with the staff or team." But in an interview with Fox4News in Dallas, Delance confirmed that his decision had everything to do with what he saw on that video.
"It was very disturbing. I never thought that stuff was still trendy as much as it was back then or it could keep repeating itself. It was very disturbing. I didn't like what was going on. I'm glad the way they handled it but that's still a bad downside to me."
He says it bothered him that OU athletics staff, including Bob Stoops, didn't keep him in the loop as the controversy was breaking—only reaching out after he had made public his decision to decommit. (Delance now says he has an offer from Alabama, and seems excited about it.)
Stoops may have been busy. Yesterday morning, he and a number of Oklahoma players joined in a campus protest denouncing the video and the sentiments within.
G/O Media may get a commission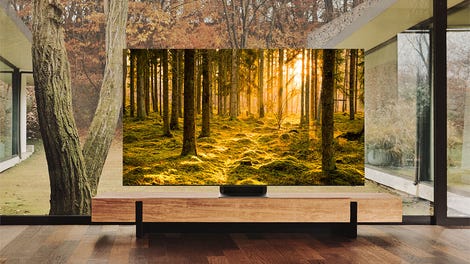 Up to 40% off
Samsung Smart TVs
Hopefully Delance saw that, but he also may have seen Eric Striker's Snapchat video, in which the Sooner senior LB ranted against racist fraternities that turn around and cheer for the football team:
Striker, a team captain, spoke with The Oklahoman and did not apologize for his thoughts—only, perhaps for the profanity. But he says there's a very real divide between the predominantly black athletes and the predominantly white fraternities.
Despite often being invited to parties because of his athletic prowess — and used to promote and create buzz about those parties — Striker said he's been singled out and asked who invited him, then told he can stay, "as long as you don't cause any trouble."

Striker recalled defensive end Charles Tapper being called the N-word at one fraternity party, and former OU running back David Smith overhearing someone whisper that people at a date party should watch out for Smith, because he might take a girl home and rape her.

"All of this has happened, and we kept it within and pushed it under the rug," Striker said. "After (the video), we have to take a stand. Our voices have to be heard."
At least one current player has taken to Twitter to plead with recruits not to judge the school by this incident.
[Fox 4]