Your morning roundup for Oct. 24, the day we learned how to make a backpack out of, well, anything. H/T to Patrick K. for the Gaffney video. Got any stories or photos for us? Tip your editors.
What we watched: The Saints' leveling of the Colts last night has generated a lot of talk about that striking 62-7 score and where it stands in the annals of NFL blowouts. But I was reminded instantly of something: Dan Marino and Jimmy Johnson lost by that same score in their last respective NFL games as a player and coach some 12 seasons ago.
It's true that no team had scored 62 since the Jets did it against the Buccaneers in 1985, but that was in the regular season. At the end of the 1999 season, Marino's Dolphins played the Jaguars in Jacksonville in an AFC divisional playoff game and lost, 62-7. Miami turned it over seven times, including two Marino interceptions, and the Dolphins trailed 41-0 in the second quarter before Marino completed a 20-yard TD pass to Oronde Gadsden to cut the deficit at the half to 34. Damon Huard would replace him in the second half, and it would be the last TD Marino threw. Johnson, who could never duplicate the title runs he had at The U and with the Dallas Cowboys in four seasons as Don Shula's successor, announced his retirement the next day. Marino, who never could cap his otherwise fabulous career with a championship, walked away for good a couple of months later.
G/O Media may get a commission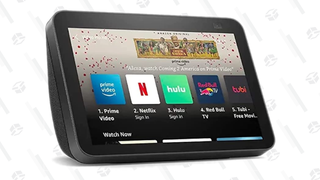 Elsewhere
So let's ask why: "National Basketball Association coaches dress in street clothes; so do National Football League coaches (albeit with team logos). But — as you have undoubtedly noticed anew if you've been watching the World Series — baseball managers don't. They dress like their players, and it's been such an integral part of baseball for so long that fans seldom ask themselves why. 'It's a little like Alice in Wonderland, through the looking glass, where in baseball things are reversed from the way they are in other sports,' said John Thorn, the official historian of Major League Baseball. 'In trying to explain the reason for it, folklore comes in.'" [CNN]
Where landlines still thrive: While landlines in homes collect dust and serve increasingly decorative functions, the attitude among baseball clubs is a familiar one in a sport tied tightly to old-fashioned ways: why change what works?" [New York Times]
Your Montage Of Sand Castles Interlude:

Not a good day for Team Glazer: "One can but imagine the atmosphere on the private plane that bore Joel Glazer and his brothers from Manchester to north London on Sunday. For one of their most prized assets to fail under their gaze was bad enough - but a second embarrassment in the space of six hours was surely too much to tolerate. Rio Ferdinand, who scrapped his invitation to perform the ceremonial coin-toss last night, was probably best advised staying away." [London Telegraph]
The Dallas Symphony Orchestra meets the World Series: "Minutes later, Nathan Olson, the 24-year-old co-concertmaster and first violinist, walked on stage with a blue Rangers cap on his head, a striking clash of wardrobe, not to mention cultures. But the members of the large audience, despite their refined taste in music, also seemed to have a keen interest in the outcome of the events taking place at Rangers Ballpark in Arlington, much like the musicians. Olson doffed his cap to the crowd, which applauded and laughed at the same time, and then he turned to face the orchestra to supervise the tuning. Before doing so, he reached up to his head and flipped the hat around like a catcher so the bold white T again faced the audience. Again, the audience erupted in applause and laughter at Olson's salute to the local maestros performing on dirt and grass 20 miles to the west. 'We love the Rangers,' the first violinist Kaori Yoshida said, her eyes fixed on the TV before the concert began. 'Everyone is back in here watching as soon as the intermission begins.'" [New York Times]
When goaltenders in Canada struggle: "Right now, Montreal looks like a tire fire, Winnipeg seems to be enjoying its free ride, Ottawa only seems to beat the Winnipegs and Columbuses of the world, Edmonton is still more future than present, Calgary just seems exhausted, Toronto is flying unusually high, and yet Vancouver is the place where some fan is holding up an 'Occupy Luongo' sign. Vancouver isn't eating itself yet, but this is not healthy behaviour. It is hilarious behaviour, of course, but that is entirely different." [Vancouver Sun]
Merch: Managing editor Tom Scocca and contributing editor Drew Magary have both written books. You can buy Scocca's Beijing Welcomes You: Unveiling the Capital City of the Future here, and Magary's The Postmortal here. Now do it.
Send stories, photos, and anything else you might have to tips@deadspin.com.