"There are no dumb questions." That was a promising way for the Jaguars' representative to open the conversation when he returns my call regarding what I presumed was a dumb, dumb question.
Fred Taylor signed a one-day contract with the Jaguars today, in order to retire a member of the team with which he spent 11 seasons. It's a nice gesture, and a common one for beloved players who move on in the later stages of their careers. But to our knowledge, no one had ever inquired about the contract itself.
So we peppered the Jaguars with annoying questions. Will Fred Taylor get paid? Does he qualify for the league minimum salary, or at least the state minimum wage of $7.31 an hour? In essence, is the contract a real contract?
Absolutely, says Jaguars' manager of communication Ryan Robinson, who walked us through it. The media may refer to it as "ceremonial", but for all legal and labor purposes, it's an actual contract that is identical to the one given to anyone else on the roster. Taylor has to sign it, or it will not be valid. A copy will have to be faxed to the league office in New York, or it will not be valid. The Jaguars had to have a free roster spot to use on Taylor. (Currently, they're full up, so someone got cut. When Taylor's deal expires, tonight at midnight, they could reinstate the cut player, but that's unlikely since they have to get down to 53 by Sunday.)
But what of compensation? Taylor, with more than ten years of service, is entitled to a minimum salary of $910,000. As a normal NFL contract, that's the amount that will presumably be on Taylor's one-day deal (or a pro-rated amount). That would be a big hit for a team just looking to do right by a loyal player, and thankfully Jacksonville won't have to pay a penny of it. In section 9.a.vi of the collective bargaining agreement, a player's retirement counts as a "Forfeitable Breach," and Taylor will have to forfeit "the proportional amount," in this case, all of it. Since the contract goes into effect and expires today, and Taylor will formally retire before paychecks are due or games are played, no money changes hands.
G/O Media may get a commission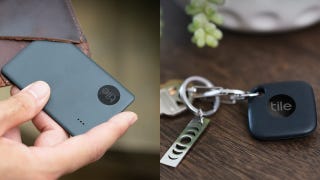 Up to 35% off
Tile Item Trackers
Everyone, from the player to the team to the league, knows the deal, so no one makes much fuss, and most of these fly under the radar (The Jags signed Paul Spicer to a one-day contract earlier this year, with minimal media coverage). It's a simple gesture, but not one without legal standing. Taylor's second Jaguars stint will go down in the league's files and in the official NFL Record and Fact Book. In every sense of the term, Taylor will retire a Jaguar. This is no ceremonial contract.