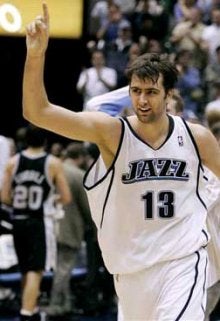 The NBA's conference finals begin today with the West, and the East follows tomorrow night.
Because we feel that no one understands the NBA more like the way we wish we understood the NBA than the gang at Free Darko, we've asked them to write up previews of every playoff series throughout the postseason. It will help us understand what's at stake in each series, what matters, what it means for the individuals involved, their fanbases and their history. And there will also be funny, bizarre, non-linear photographs.
After the jump, our conference final preview, the series between the Utah Jazz and the San Antonio Spurs. It's not a matchup that many people expected to see, nor is it one that many people wanted to see. But like it or not, these are the two teams that have earned their way here, and the Jazz are the last shot we'll have at preventing the Spurs from continuing their run of Western Conference dominance. If you want to hop in with your predictions in the comments, please do. Because we type about sports, and people expect it, our prediction is Spurs in 5.
And now, Dr. Lawyer IndianChief , from Free Darko, after the jump. Enjoy.


I'm going to be working with two premises here: (1) The Jazz are clear underdogs in this series, and (2) The Jazz are going to win this series. The general creed that underdogs in these situations tend to adopt is the "nobody believes in us" creed, a tactic similar to the "we feel disrespected" card that gets tossed about at least once per playoffs and in virtually every single situation involving Joey Porter. The Golden State Warriors and their gold t-shirt-bedecked fans, for example, rode the believe train all the way to a first round victory over the top-seeded Dallas Mavericks. We've seen similar tactics used by the 2004 Detroit Pistons, the 1999 UConn Huskies, and the 2007 Florida Gators. It is as though winning itself is not enough, but rather what suffices is some man-as-god punishment of all nonbelievers.
I go into such detail on the "nobody believes in us" tactic, because this year's Utah Jazz are operating on an entirely different principle altogether, although they may not even know it. This creed shall be known as the "nobody cares about us" creed. The Jazz, you see, are fighting more than mere disrespect—they are fighting disinterest, isolation, estrangement. Outside of Ute country, I don't know if anyone really gives a second thought to these guys. An odd collection of Euros, Whites, Alaskans, Deron Williams, and playoff-thorn, Derek Fisher, they share no central magnetic force. There are no stars, and there is no team-as-star cohesion such as is exhibited by teams such as the Hawks, Warriors, or Pistons.
Perhaps subconsciously rather than intentionally, I see the Jazz using the nobody cares tactic in Travis Bickle-esque manner, releasing massacre in response to their own alienation. The way Utah has been carving through the playoffs is almost ninja-like—silent, yet murderous. They arrived in Houston to do away with the Rockets, who with a healthy Tracy McGrady and Yao Ming seemed preordained to finally advance to the second round. Then, after the Golden State Warriors' much celebrated victory over the Mavericks, the Jazz were again cast as a faceless rival in what would be a cutthroat danceoff. After Round 1, a Warriors win at home became the "surest bet" in sports, yet the Jazz rolled into the East Bay as if they didn't speak the language, and left holding skulls on skewers. Their defeat of both these teams was methodical, thankless, and bloody. The Spurs speak of hardcore, but I'm not sure they are willing to engage in the Jazz's level of brutality.
As far as San Antonio, I'm downright sick of spouting my love/hate views on them and sick of hearing about them. Due to Robert Horry's hipcheck of Steve Nash, the Spurs are being both unfairly chastised for ruining the 2007 NBA Playoffs and the legacy of James A. Naismith as we know it and inappropriately cast as some "cool villain," although most of their players are merely experts in the bitchmade arts of whining, flopping, and cheapshots. They are neither important enough to have destroyed these already sinusoidal playoffs nor are they gangster enough to deserve the black that adorns them. Tim Duncan is really good. Tony Parker is really fast. Horry is really clutch. The end.
And in a purely basketball sense, the Jazz provide a difficult matchup for the Spurs. Deron Williams has been amazing in the postseason and every bit as good as Tony Parker. I hope the TNT/ESPN brass realizes that Williams is single-handedly the argument against broadcasting only Heat/Cavs/Lakers/Suns/Mavs/Spurs/Rockets/Pistons games during the regular season. Carlos Boozer is nowhere near Tim Duncan in terms of sheer size, but will be Duncan's toughest match-up in terms of sheer physicality. In fact, I'm not sure there is another player in these playoffs (not Shaq, Yao, Sheed, or Amare) that provides a more of a brute-on-brute matchup for Timmy D. Finley/Ginobili and Giricek/Kirilenko is a wash. And Mehmet Okur is simply too confusing for the likes of Francisco Elson and Fabricio Oberto.
Of course the safe money is on the Spurs because of their postseason experience, but I'm rolling with Utah because of the versatility and capacity for adaptation conveyed in their first and second round victories over the Rockets and Warriors. Houston deployed a sympathetic hero (McGrady), a gentle giant (Yao), homecourt advantage, and a neurotic coach who tried to slowly squeeze every ounce of agility and speed out of a 48-minute contest. Utah was victorious. Golden State offered heart, pride, a confidently relaxed coach thriving on his players' penchant for pandemonium, a bearded inspiration to us all who continuously wove the fabric of nationalistic folktales, and yet Utah emerged again the victors. Now is their chance to display this versatility on a stage where it finally matters, to defeat the much-maligned Spurs, and to make somebody outside that state of beautiful beehives care.