With Wednesday night's wrapup of the regular season, the playoff matchups are set. There are eight conference quarterfinal contests, and the whole shebang kicks off this tomorrow.
Because we feel that no one understands the NBA more like the way we wish we understood the NBA than the gang at Free Darko, we've asked them to write up previews of every playoff series throughout the postseason. It will help us understand what's at stake in each series, what matters, what it means for the individuals involved, their fanbases and their history. And there will also be funny, bizarre, non-linear photographs.
After the jump, our first playoff preview of the day, the series between the Detroit Pistons and the Orlando Magic. We shall see if Darko himself can overtake the OVERHYPED! Dwyane Wade and LeBron James in the Eastern Conference. Plus, you know: Sheed. If you want to hop in with your predictions in the comments, please do. Because we type about sports, and people expect it, our prediction is Pistons in 6.
And now, Dr. Lawyer IndianChief, from Free Darko, after the jump. Enjoy.
——————————————
Every April holds two time-tested inevitabilities: Ben Folds will be playing at your college's Spring Fling concert (Blackalicious is opening), and Flip Saunders will be struggling in the NBA playoffs. As a Minnesota Timberwolves fan since the inception of that team, I watched the legacy of Kevin Garnett destroyed not by Kevin McHale (who has gone unfairly villainized for far too long), not by the cruelty of fate (see Malik Sealy), not by the selfishness of supporting actors like Stephon Marbury and Latrell Sprewell, but by Flip. It was Flip who could not defend the pick n' roll, who stubbornly never wavered from his jumpshooting offense, and who coddled KG, never challenging him in the way that Zenmaster did when he told Shaq to stop making genie movies.
G/O Media may get a commission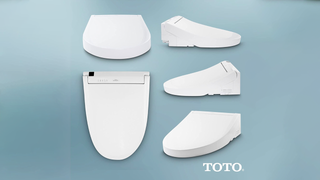 44% off
Toto Washlet Electronic Bidet Toilet Seat
In the playoffs it was worse. Saunders always made his adjustments one step slower than the other coach. His perimeter-based offensive schemes were easy for opposing defenses to figure out and his players never got to the foul line. His supposedly "genius" zones were devoured by opposing point guard penetration. Not specific to the Timberwolves, we saw this same pattern of events unfold in the playoffs last year, when LeBron James exhausted (and nearly defeated) Flip's Pistons all by himself before Riley and The Heat bamboozled Detroit in the semifinals. Left without answers, the embodiment of the team's defensive identity, Ben Wallace, fled to Chicago. Many wondered if Flip would be next to go, though not by his own choosing.




The good news is that now in the playoffs zero is expected of Saunders; the bad news is that if the Pistons lose to a very dangerous Orlando team, he will take on a postseason mythology of a Schottenheimerian caliber. Orlando is dangerous because of sneakily good three-point shooting (I'm expecting at least one huge bombardment from Turkoglu or Reddick), a coach with some serious playoff experience, and — aside from LeBron and D-Wade — the best player on the court in any Eastern conference playoff series: Dwight Howard.

This series, and really the entire Eastern Conference playoffs are really all about Dwight Howard, as a philosophical proof. We just endured a season in which Smallball was put forth as the dogma of the future. The Center position now starts taking applications at 6'7". Nobody cares about how terrible cares about how pisspoor of a rebounder Amare Stoudemire is because he can run and jump really fast. Nellie is back in the playoffs. The bigs-are-outdated viewpoint is all well and good, but the facts reveal that since MJ was king, every single NBA finals has been won by either Shaquille O'Neal or Tim Duncan/David Robinson (except for that year when the Larry Brown and the boys gangtackled the Lakers with a plethora of bigs ranging from Darko to Ben Wallace to Elden Campbell).




Putting speculation about Greg Oden aside for a moment, Dwight Howard is the only direct descendant of that true big man lineage. All too reminiscent of happy-Shaq during the "holy f#ck we just kicked the sh#t out of Michael Jordan's comeback party" era, Howard plays looser and with more agility than any other big man in the league right now. He channels vivacity into power like the Hindu god, Mahabaleshwara, and this should have Flip Saunders and his collection of geriatric big men (with about 4.6 ounces of knee cartilage between the four of them) very concerned. Now despite the potential excitement of God's Son winning his first playoff series ever, of course I'm picking Detroit. 'Sheed and Nazr Mohammed sport rings. Antonio McDyess and Chris Webber have gotten so close they could smell it. The mental fortitude of these men alone makes them likely candidates to possibly make the finals.




And what of Webber? This entire season has been one of unexpected redemption, and these playoffs could allow for the storybook finale to this journey. Perhaps the man who bankrupted and destroyed Michigan basketball — through gaffes and improprieties — could rebuild Michigan basketball in a way no one thought possible. For his entire career, Webber has stood as the emblem for NBA sadness and has internalized this sadness to a point that would make a normal man implode. Gilbert Arenas speaks to us about his problems and his past. We have seen Kevin Garnett shed tears. Tracy McGrady expels his emotions through scoring outbursts. But for Webber, there is no outlet. Perhaps he always knew that this would be his destiny: a homecoming, and a rebirth.