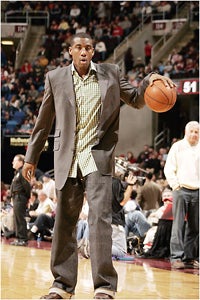 We're at the start of the NBA season, with all its drama storylines and sturm und drang and months of madness. To us, part of the beauty of the NBA is that its focus, while ultimately on the team, falls on the individual. The plight of one player becomes an epic tale in the shadow of Jordan; who is the real alpha dog? It's this source of expression and personal comedy/tragedy that makes the game so compelling. There's no where to hide out there.
No site captures this feel more than the great Free Darko, which we read like a doctor's chart every day during the NBA season. They understand the dichotomy between individual achievement and collective glory, and how those are not mutually exclusive. And they've got a way with letters too.
Therefore, we've asked them to look at the arcs of certain players going into this season, what 2006-07 means to them, their teams and their legacies. They'll be previewing a player a day. This is the final installment.
Today: Amare Stoudemire. Your author is Bethlehem Shoals. After the jump.
———————————————
There's really not much to say about Amare Stoudemire's '05-06. He ended the 2005 playoffs on the cusp of immortality and then, very suddenly, was no more. His Suns did just fine without him, thank you, implementing an elegant version of small ball that all but erased the memory of his megaton presence. For most inspirational basketball fans, STAT existed merely as a medical chart, measured periodically against history and anything resembling an expert opinion. His two games back revealed only that this monster would not come roaring back without a pause; the funny thing is, I don't think any of us thought this was an unreasonable expectation.
By now, we all know the ugly precedents. Chris Webber, rendered irrelevant and immobile by the dreaded microfracture procedure. Shawn Kemp, an impossible mix of speed, strength and terror whose game made him seem more meteoric than he actually was. Len Bias, whose legend was etched in what could have been. And Shaq, cast out of the very paradise that grew up in his powerful footprints. If ever there was a perfect storm of unfortunate comparisons, surely we gaze into it now with Amare. At the same time, that Stoudemire can be compared to C-Webb, Kemp, Bias and Shaq without denting your monitor is more than a little remarkable.
On paper and in the scout's eye, this might seem foolhardy. For anyone who watched him in '04-05, though, no one was more central to the New NBA's vibrancy than Amare. With every gargantuan burst and murderous highlight, he affirmed the joy that makes us watch in the first place. LeBron's ongoing treatise on basketball perfection and Wade's heroics might grab the headlines, but it was Stoudemire's ability to ignite this fuel with faith that made a banner era for the game into an ecstatic one. James is pure Old Testament, D-Wade the kindly upstart. . . and Amare, he was the wailing prophets, Holy Ghost and headless nightmares rolled up in one. While I worry that we might never again witness the Stoudemire of old, I know that, on some level, he awakened in all of us the key to appreciating the next decade of the Association.
No one knows what will happen in the realm of the real. The Suns now reek so strongly of Nash's soft-spoken Marxism that there be no place for an outsized dynamo. Raja Bell, whose importance to their playoff run was greatly exaggerated, has gone so far as to suggest that Amare needs to earn his way back in. Since, you know, Kurt Thomas was such an integral part of last year's surprise, and possibly flukish, experiment. Thus far, coverage of The Comeback has vacillated between Barbaro-like scrutiny and almost resigned disinterest. When Amare shows signs, all of a sudden his every springy dunk becomes an ESPN feature; if he hits a stretch of malaise or discomfort, the media politely mentions it and then holds their breath until the next spot of sunshine.
Heading into this season, Amare is without a doubt the league's biggest question mark. Yet his team and the Association in general have moved on, honoring his name with the assumption that his mark has been made. As someone who genuinely wishes Stoudemire the best of luck, I hope he can fight his way back to prominence. But as someone whose heart will be shredded by the sight of a less than profound Amare, I would almost rather not pay attention until I can be sure he's back. Until that day, his spirit lingers on in each and every one of us.