The sea was angry that day, my friends. Like an old man returning soup at a deli.
A trainer was injured during a show Wednesday at SeaWorld Adventure Park after Shamu the killer whale grabbed his foot and pulled him underwater twice, authorities said.
OK, the thing that really caught our eye about this story is the photo. Does anyone find it ironic that Shamu has a high-paying job kicking footballs, and Mike Vanderjagt doesn't? No? We withdraw the question.
Cowboys receiver/shrinking violet Terrell Owens does not, however.
"I don't see what he did wrong to warrant him being cut," Owens said Wednesday. "I hope it doesn't come back to haunt us. ... Going into the Colts game, the guy was 12-of-15. That's still a high kicking percentage. He didn't lose any games for us. If I had to put myself in the mix, I feel like I lost some games and I'm still here, so it's just unfortunate."
Owens was then grabbed by the foot and held underwater by Flozell Adams.
T.O. Questions Cowboys' Release of Vanderjagt [MSNBC]
Killer Whale Shamu Attacks SeaWorld Trainer [MSNBC]
G/O Media may get a commission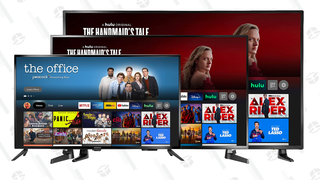 Up to 44% off
Prime Early Access - Insignia Fire TVs